Arabian Oud Arabian Legend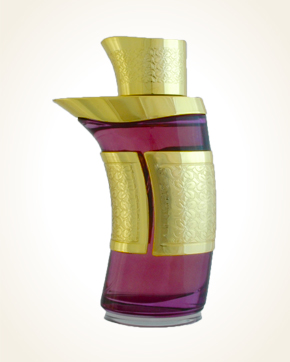 Arabian Oud Arabian Legend
Eau de Parfum 100 ml
Out Of Stock
Eau de Parfum Sample 1 ml
Out Of Stock
Notify me when available?
Description
The Legend perfume is rightly one of the highlights of the Arabian Oud perfume production. The high quality of the ingredients, hidden in the beautifully decorated gold-colored bottle, is evident with the first scent. Experience this absolutely extraordinary fragrance and be enchanted by the dream of the Far Orient.
Here comes a flood of spices, star anise, cloves, cinnamon with red pepper, which together with white flowers neroli form the story of exclusivity. Saffron, bergamot and vetiver will show slightly earthy tones. You can feel the queen of flowers - a rose - in a very special combination with blackberries.
Infinite depth of fragrance shows us oud oil of the highest quality. It is a unique wave that continues with honey lazily in the haze of scented wood, supplemented by musk and patchouli.
Perfume has a full, distinctive and very sensual fragrance that will accompany you in all its changing forms. It combines a unique combination of luxury and elegance.

Customer Reviews (5)
I decided to write a review of Arabian Legend and at the same time I have nothing to write… The fragrant ingredients and the overall tone of this fragrance were aptly described by other admirers before me; I couldn't describe the beauty better. By the way, for a long time I didn't understand women who can wear a single perfume for years (or maybe their whole lives). I considered them hopelessly conservative ... Over time, I came across scents that I could even imagine. They could be counted on the fingers of one hand, but they were ... Today they were joined by another ... I can imagine that the woman who sits this perfume no longer wants to have another story told. (11/05/2020 - Petra P.)

Arabian Legend edp is a very sensual fragrance. This is mainly due to the sparkling champagne that decorates the glass in the glass together with lime slices. Apples and plums soaked in sweet liqueur, smoothed with smoked almond, are added. The base is a sweet and smooth honey, giving the impression of opulence, which is further multiplied by a slightly eccentric combination of spices. The pungent cinnamon heats up, the clove crushed into dust grinds its sharpness, and the cardamom delivers an absolutely oriental direction with its soft whisper. Everything is underlined by the acidic tones of raspberries and currants, and above all complemented by a sweetly resinous oud that this time lacks bitterness. The fragrance settles into a powdery form in which only sweet yellow roses dusted with a slight trace of cocoa appear subtly. (08/07/2014 - Simona J.)

Arabian Legend is an intoxicating perfume. (June 11, 2013 - Olga F.)

A few insights from meeting you - Arabian Legend leads. It is a sweet spicy beauty and it is "eaten". It is a "fragrance lady" - a sweet spice with saffron, roses, patchouli and ambergris, and its aroma is excellent. (Feb 25, 2013 - Sylva F.)

Beautiful aroma ... Bergamot with spices, sweet orange flowers with candied peel, thick forest berries jam, blackberries in honey, sugar dates, velvety red rose, patchouli with a pinch of saffron and vetiver, dry woody tones with dark resin smoke, light a trace of fresh pepper and cedar, a passionate musk kiss ... Spicy, sensual, dense ... beautiful ... A wonderful scent ... It will tell you a story ... stunning, full of scents, tastes and colors of life ... Hot white the walls of the impressive old royal town houses, the narrow streets of busy marketplaces, crowded with baskets full of spices, orange flowers and honey dates, a decanter with rose water, gold-shining metal pots with aromatic oils, a little girl with flowers ... decorative cages with rare birds .. They are like her, waiting for freedom ... In a cool dark room with the scent of burning resins, intoxicating and sweet, she introduces you to dreams ... The delicate white hands of a beautiful young girl with bewitching eyes bind knots and under the swift, slender fingers, a work of art is created and grows ... a silk Persian rug with ancient patterns ... tiny saffron-yellow buds are shyly peeping out towards the sun ... noble birds with wings in the color of an Isfahan blue like the sky in her hometown ... Waiting for her, Shah's first wife ... only she, a lady with pearls and rubies, can deciding on her fate and the piece of beauty that will complete soon ... Coming in a burning sunset, noble, shrouded in a gold embroidered abaya, her eyes resting on the flowers and birds lying at her feet ... and on her, fragile a girl, similar to the one she knew years ago ... herself when she came to this city ... "Your hands can give an inanimate life ... I give you freedom ..." dherná smell ... He will tell you a story ... (February 4, 2013 - Renée H.)

Have you tried one of our perfumes?
Let us know
how you like it!
Notify me when available?
You might also like