Anabis Zamora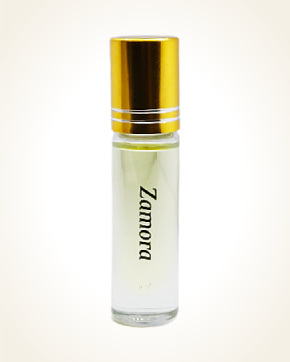 Anabis Zamora
Concentrated Perfume Oil 5 ml
In Stock
Concentrated Perfume Oil Sample 0.5 ml
In Stock
Description
Zamora is a floral delight, with oriental touches of mystery and seduction.
The charming play of the flower concert opens with a solo sweetish woody irises, accompanied by soap purity in the undertones of charming aldehydes and the fragility of orange flowers.
The scene enters with a deeply intense, green vibrant, fascinating scent of vibrant color hyacinths, an opulent magnolia with jasmine in chordate chords with cool lilies, velvety roses, and the delicate beauty of violets.
The embrace of the Orient opens up with a honey-soft ambergris, whose tones vibrate the vanilla sweetness of the tonka, the sensuality-attracting puffy musk, whose excess sparkle is smoothed by the dry accent of mosses.

Customer Reviews (4)
Good day :) The other day I received a sample of Zamora from you as a thank you and it is something incredible! according to the description, I wouldn't choose this scent at all, but it suits me well. I only use soaps for washing and I like really good scents, and here this perfume totally reminds me of some nice, luxuriously scented soap :) Thank you :) (05/05/2023 - Lenka B.)

Zamora. It is especially sensitive to lilies and moss. Hyacinth is still being spoken for, but with more ingredients there are other feelings. It's exceptional, so cooler and that's great. It is worth it. Well thank you. (09/03/2020 - Dominika J.)

Dear Ladies and Gentlemen in Anabis, I thank Mrs. Lenka and Jana for their willingness and assistance in ordering and that I could take advantage of the large warehouse sale offer to order the fragrant treasures that I have already picked up and am excited about. So far I have tried Anabis Zamora and the smell is really feminine, beautiful, strong and goes a lot into space and the stamina is long. It's a floral pleasure, but I feel a little orange and musk. I will evaluate the other treasures later. Thank you for your fragrant world and especially for your helpful approach to the customer. Have a nice, sunny autumn and Indian summer. Your Customer (1.10.2019 - Gabriela K.)

Thank you for the very fast delivery of goods - perfumes are wonderful, one of me ordered stands out above all - Zamora. She is strong, intense, addictive and goes into space, I am very happy because she reminds me of the Rania, which I save due to the price :-) Zamora has hidden magic tones inside, pulls you into her snare and is really beautiful. Thank you very much for your personal approach to us customers! Have a nice summer and I'm looking forward to the next news you picked :-) My family says I'm almost obsessed with fragrances - yes I admit, smells give me a feeling of happiness, it's a beautiful world where you and a couple crowns I can buy a beautiful fragrance. I thank all Anabis that you are. Yours sincerely (21.6.2019 - Ivana W.)

Have you tried one of our perfumes?
Let us know
how you like it!
You might also like