Anabis Manola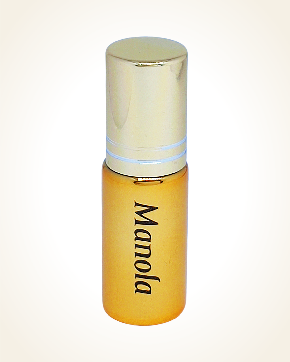 Anabis Manola
Concentrated Perfume Oil 5 ml
In Stock
Concentrated Perfume Oil Sample 0.5 ml
In Stock
Description
A floral cascade of rich colors of hyacinths in the company of opulent gardenia, opens the enticingly captivating scent of Manola perfume.
The intense sweetness of the gardenia is smoothed by the juicy hint of citrus, where the interestingly bitter scent of bergamot comes to the fore, with an echo of moist soil in the forest and a smoky dry vetiver.
The sensuality of the sparkling musk is magically embraced by the softness of rare woody plants, to which a gourmet banana with mango sorbet is wrapped, decorated with scoops of fluffy whipped cream with coconut shavings.
In the end, a delicious, vanilla foam combines with salty caramel crystals, which end the scent.

Customer Reviews (3)
Anabis Manola - a wonderful sweet woody scent. After a while, her daughter says that the meadow full of flowers is slowly turning into an orchard ... when she first sniffed her wrist, she felt like she was in a magical flower paradise. Romana V.)

The cocktail made of coconut milk full of mangoes, bananas and mandarins, densely sprinkled with caramel, which Manola offers, is enough for me to improve my mood on a gloomy day. The creators also added a bonus in the form of the intoxicating scent of gardenia, magnolia (s) and creamy ylang-ylang. What to add… I would like to eat, drink or (yeah, that would be best) still fetishize this scent. (11/22/2021 - Petra P.)

Hello, today I received my order and I immediately tried the scent of ANABIS MANOLA-oil and its scent is beautiful, you immediately feel like you are in a garden full of flowers, its scent is warm and very pleasant. Thank you again and I will order again in time. (11/1/2021 - Silvie S.)

Have you tried one of our perfumes?
Let us know
how you like it!
You might also like