Anabis Leyla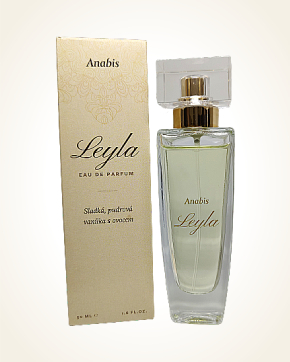 Anabis Leyla
Eau de Parfum 50 ml
Out Of Stock
Eau de Parfum Sample 3 ml
In Stock
Notify me when available?
Description
Sweetly sensual, intoxicatingly captivating - such is Leyla, now in Eau de Parfum 50 ml with spray.
The charming vanilla lures into its gourmet hugs and opens the way for a cool-sounding iris, which, with its velvetiness and seduction, warms up pleasantly. Leyla is literally a vanilla concert.
There are chords of sensually winding fruit and several lazily stretching tones of honey. Apricot-peach melange with drops of delicate honey, sinfully binds and its heat suggests the irresistible sound of the perfume, with elegantly gourmet vanilla.
Let yourself dissolve directly into the magnificent snaps of deep-sounding vanilla, which seduces and strokes at the same time.
The sample for this perfume is not in a standard 1 ml vial, but is in a new, luxurious design of a small glass, pocket spray with a content of 3 ml, which you can take anywhere with you - in your pocket, purse and your favorite fragrance Anabis Leyla. myself: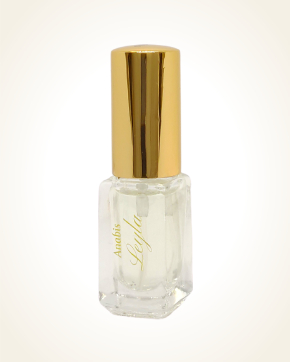 Customer Reviews (8)
ANABIS LEYLA — so much praise has already been given, there is nothing more to add... Leyla is simply dreamy magic and actually the only scent I get praise from everyone wherever I go. (03.10.23 Lenka, Germany)

Leyla… perennial of the "Anabis" sky and my shelves. I've already written about it, but I'm still coming back to it, because edp was added to the oil. Leyla reaps well-deserved applause for perfectly balanced proportions of sweetness and freshness. Nevertheless, both forms on my skin look a little different: the oil looks like a warm musky vanilla scent refreshed with a drop of bergamot, a delicate scent of orchids and a bit of very ripe peach. In perfume water, fruit stands out (peaches are successfully seconded by apricot) and, surprisingly, wood from the base (I mainly plant on cedar). Vanilla, musk and flowers are of course also reported, but only to the extent that Leyla does not look like a simple "fruit". All in all, when I'm hungry for something sweeter, I reach for oil, and when I crave something juicier, a few splashes of edp do it. Both "made by Leyla". (14/03/2021 - Petra P.)

Received Leyla and it is a beauty powder vanilla fragrance. It is very soft. I am so happy to have this in my collection. Thank you! (05.02.2021 - Vanessa - USA)

Greetings to Anabis, encouraged by reviews of Leyla, how sweet the vanilla powder is, I couldn't resist. Ladies, how I envy you that it smells like vanilla. Not for me. After the spray subsides, I feel menthol, I give a chance what if ..., after half an hour, menthol's artificial fruit. Washed after an hour. (04/01/2021 - Marta G.)

Hello, Mrs. Lenko and the whole Anabis, thank you for the two express packages now in a row! When I first ordered Christmas presents and I received a small package of Leyl in a spray, it was decided that I had to send another order in the evening. I had Leyla in an oil several times and now a spray ... yeah, I'm in a vanilla cloud that ripples floral tones and everything is so fluffy. Vanilla also evokes memories of well-being, beautiful childhood, kind people - it's just a scent that embraces and is beautiful. Thank you and have a wonderful holiday and please KEEP YOUR FRAGRANT SHOP EVEN IN THIS COMPLEX TIME, we your customers are infinitely grateful that you allow us to have the beauties of the Orient fairy tales :-D. Your addicts (perfume) (10.12.2020 - Katka H.)

And the daughter melts over Leyla. She is already "purring" like our cat :-D She already has a vanilla Christmas with a vanilla scent, according to her she feels as if she is swinging on a creamy foam and the swing is picking up a flower or a piece of wood here and there and swaying full again with vanilla. Thank you for the beautiful scent. (05/12/2020 - Milada K.)

Hello - ANOOOOO, and thank you, as the lady writes, I also really wanted it in a big package and spray, congratulations on the fact that I succeeded and congratulations to myself that I have it :-) :-D I would like to drink it vanilla vanilla and she bathed in it :-D is just amazing !!! Thank you and I wish you many successes in a difficult time and especially good health to the whole team of fragrant Anabis. (10/16/2020 - Jana R.)

Good afternoon to Anabis, you have no idea how you pleased me! I've been dreaming about the big bottle of Leyli for a long time. I just hope you have huge supplies and it won't be hopelessly sold out after a few days: D: D. Thank you very much, Leyla has had a huge love for a long time! I wish you a beautiful scented day, Zuzka from Bratislava (14.10.2020 - Zuzka D.)

Have you tried one of our perfumes?
Let us know
how you like it!
Notify me when available?
You might also like