Anabis Arakis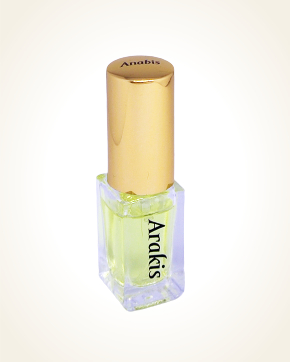 Anabis Arakis
Eau de Parfum 3 ml
In Stock
Eau de Parfum Sample 1 ml
In Stock
Description
Floral and fresh green, such is Arakis, in the introduction of which you will breathe velvety roses blending their majesty with citrus wool.
Let yourself be seduced by the juicy, orange tangerine trail, which is complemented by touches of the cold beauty of lilies of the valley, white lilies and the fragility of violets.
There comes a green wave of pure soapiness that permeates the shimmer, the still cold morning rays of the sun, reflected in the drops clinging to the leaves and stems of the flowers, adding a fleeting chypre tone to the perfume.
The lush haze, which rises slowly, is replaced by a seductive play of water and green purity to give the musk space with its powdery fluffy hug.

Customer Reviews (2)
Arakis is an absolutely perfect and balanced fruity floral scent that nothing is missing or left over. It has no unpleasant beginnings or reverberations. It is so beautifully full, warm and soothing that I do not have the right enough words to properly praise its beauty. It is dominated by mandarins, violets, lilies of the valley and fine musk, which together form such an unearthly beautiful combination that very soon I will need another package :-) It's a pity that it is only made in the 3 millimeter! (12/01/2022 - Hanka P.)

Dear Mrs. Lenka, I was very pleasantly surprised by the speed of delivery of the order, I ordered yesterday and today a package arrived! All perfumes are beautiful! And to help others in the way I help me, I'll write you my impressions. The perfume Arakis from Anabis is fresh-floral for me. The scent develops very nicely, at the beginning I would guess that it is related to Lamse, I feel Tulip for a short time and finally, when it settles, it is usually fresh with white flowers and maybe a pinch of green tea, citrus, pism and somewhere deep citim med. Very successful scent. (04/28/2021 - Ivana J.)

Have you tried one of our perfumes?
Let us know
how you like it!
You might also like