Amazing Creation Rose Vanilla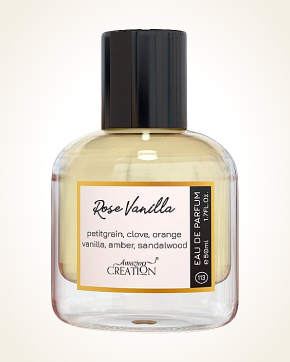 Amazing Creation Rose Vanilla
Eau de Parfum 50 ml
In Stock
Eau de Parfum Sample 1 ml
In Stock
Description
An intoxicatingly gourmand sweet fragrance, floating between gourmand and floral lines, that is Rose Vanilla, inspired by the European bestseller - Roses Vanille Mancera.
Let yourself be bound by the creamy sweetness interspersed between the whipped vanilla foam and the softness of rare woods, dominated by smooth milky sandalwood.
In its center, indulgent accords also represent caramelized sugar, into which fluffy tufts of white musk slowly dissolve, combining their velvety tenderness with a swinging serenade of red roses, on which the drops of morning dew still glisten.
The water echo brings with it the aroma of freshly halved, juicy fresh citrus, which meet again with a delicate note of vanilla.

Customer Reviews (1)
AMAZING CREATION ROSE VANILLA - I was hoping it wouldn't be a dense, over-sweetened vanilla that would evoke childhood memories of the pastry shop on the corner or my mother's vanilla rolls. I was all the more pleased that the perfume is an elegant and harmonious composition, the individual components of which are easily recognizable, but at the same time beautifully combine and harmonize, like masterfully put together notes of a beautiful melody. The perfume is like a cobweb that envelops you for long hours, despite the fact that very soon after spraying you get the feeling that the fragrance has completely lost its power. It really belongs to perfumes with medium intensity, but this does not detract from its durability, which the wearer notices only fleetingly, like the caress of a summer breeze. (07/03/2023 - Lenka, Germany)

Have you tried one of our perfumes?
Let us know
how you like it!
You might also like