Amazing Creation Insolence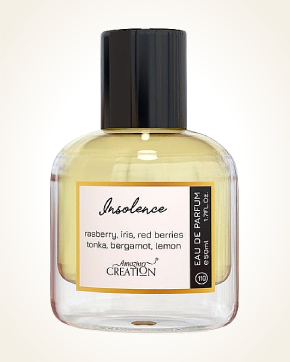 Amazing Creation Insolence
Eau de Parfum 50 ml
In Stock
Eau de Parfum Sample 1 ml
In Stock
Description
The gentle beauty of delicately scented, delicate violet flowers - this is Insolence, inspired by a European bestseller.
Violets spreading their magical nuances into fruity tones, dominated by gourmet sweet raspberries with a few citrus, emphasizing lemon and bergamot, is a magnificent introduction that attracts you with its playful charm and seduction.
Another velvet flower winds lightly to the violets - a sovereign rose, enchanting with the full scent of deep red flowers, into which the sweet vanilla chords of tonka also shine.
In addition to the flowers, there are several other fruit tones that blend raspberries and dark berries.
The caramel-sweet, milky vanilla styrax harmonizes with the smoothness of the sandalwood and the fascinating way of presenting a powdered iris, which once again picks up the purple pollen intertwining at the end of the fragrant composition with elegantly presented musky sensuality.

Customer Reviews (1)
I am glad that this creation with the European bestseller only inspired that it is not a true copy of it. I can't wear Guerlain's Insolence, it sounds like artificial raspberry syrup to me (the fans will forgive me). The insolence from the Amazing Creation workshop has a sweetness in common with its European sister, which is built on mashed forest fruit with a little sugar and mitigated by a balsamic-resin component, rather than on raspberries. Iris, violet and roses shine in the floral heart. The base is sweet and at the same time a bit bitter, it reminds me a bit of Violet Bouquet. The whole scent evokes in me the idea of blue velvet. (April 28, 2022 - Petra P.)

Have you tried one of our perfumes?
Let us know
how you like it!
You might also like