Alhambra La Vita Bella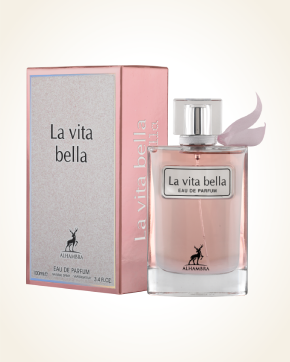 Alhambra La Vita Bella
Eau de Parfum 100 ml
In Stock
Eau de Parfum Sample 1 ml
In Stock
Description
Seductively delicious accords of ripe pear in a magical duo with piquant blackcurrant and at the same time intertwined with the fragility of orange blossoms, play an opening serenade that will win you over with its romantic embrace.
The floral concert, in which a delicate touch of iris intertwines with white-blossomed jasmine, introduces several echoes of rare woods into its tones in the company of earthy herbal patchouli and vanilla-like tonka with an undertone hidden in gourmet caramel.
Alhambra La Vita Bella is inspired by Lancome La Vie Est Belle fragrance.

Customer Reviews (1)
LATTAFA ALHAMBRA LA VITA BELLA - absolute beauty! I would never dream of buying the European La Vie Est Belle, which I tried and put aside, saying that it is quite pleasant, but boring, and the durability is simply not to speak of. On the other hand, its oriental competitor has absolutely everything, from satiety, to captivating and all-day endurance!!! The similarity is striking, but La Vita Bella is in a completely different league. Despite the fact that I have never looked for this fruity-floral type of perfume, the whole bottle, together with other ordered perfumes, stands out beautifully among the other beauties from your store. And I'm already looking for more gems... Thank you very much and I wish you beautiful spring days. (15/05/2023 - Lenka, Germany)

Have you tried one of our perfumes?
Let us know
how you like it!
You might also like