Al Haramain Alf Zahra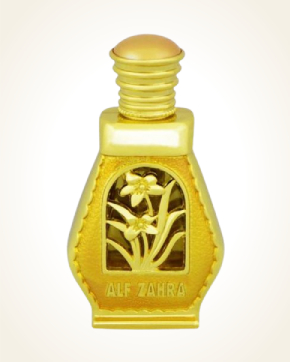 Al Haramain Alf Zahra
Concentrated Perfume Oil 15 ml
In Stock
Concentrated Perfume Oil Sample 0.5 ml
In Stock
Description
The bitter mystery shows the beauty of neroli and completely engulfs you with the first scent. Perfume continues to develop in very charming tones of jasmine flowers in its full bloom. The passage of this wonderful fragrance shifts towards the woody tones of cedar, which is laid on ylang-ylang and rose. The vetiver and incense gently appear to dip into the vanilla. Another wave of elegance and seduction is here for you in the unique scent of tuberose and violet.

Customer Reviews (5)
Alf Zahra - this fragrance encompasses its bearer the arms of delicate flowers and woody plants. It is not challenging. I perceive not only neroli, ylang-ylang and jasmine flowers, but also the gentleness of chamomile and other meadow flowers. Absolutely great. (Sep 13, 2014 - Lenka M.)

How to write a feeling of oriental perfume? I can not do it as poetically as other customers write, but hopefully you will be pleased with my observation. Alf Zahra, Rainbow and Remember Me oils liked the flacon shape at first glance. After testing the samples I decided for all three. Alf Zahra is for me a marketplace in Egypt, smells a lot of flowers and spices and something bitter, maybe leather saddles for horses. (April 7, 2013 - Pavla K.)

Alf Zahra - I knew at the first smell of the sample that I should take the scent. Not only is it much like the Black Oudh by Pierre Montal, but the oil essence of stunning roses with oud is in a magical bottle that's just right in your hand. I am not "affected" by the perfume bottles, but I always care about the smell - but this reminds me of an old, ancient garden, into which I curiously peek over a fence of metal bars created by a master blacksmith - in Moravia we call them smeared. Alf Zahra is for me a symbol of true Orient, a beauty from Arabia with amazing stamina. (09/08/2012 - Sylva F.)

ALF GARDEN - Madame Froide ... You stand here, Madame Froide, like a statue of stone, standing here, motionless, in your pose ... cold! Madame Froide, cold lady, my lady…! I am drowning in your eyes, and in the touch of our hands I am still seeking hope, promise, fulfillment of all my desires… in vain. (08/08/2012 - Dalia)

Overture begins with subtle nuances of bitterness. Its shades spill from greenish to dark yellow to golden brown. The palette of colors, animated by fantasy, drunk slowly into each other and the infinitely magical variation of the patterns, so that they stand out before each sight. A kaleidoscope without borders ... The bitter touch recedes into the background, fading away, drifting by a smooth, slippery wave of ylang intoxication. For now, the world is a place of lavish open-air feast, where everyone involved can enjoy the fragrance of the yellowish ylang ylang flowers. And roses! He develops in full force, trying to win his place in this party. She's a queen! Her proud beauty elevates the experience to the higher realms, and instead of the resounding fuss of the merry guests, shouts of half-voice talk sound through the space. Cultivated Lady Rose. Now she only holds the baton firmly in her hand. The basis is a light footprint, which merges with the skin and to a certain extent gives the impression of very decent animality. Distorted refinement… Alf Zahra. (07/08/2012 - Dalia)

Have you tried one of our perfumes?
Let us know
how you like it!
You might also like