Rasasi Al Taif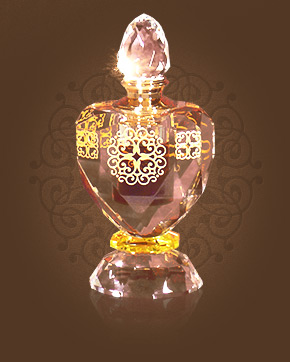 Rasasi Al Taif
Concentrated Perfume Oil 15 ml
Out Of Stock
Concentrated Perfume Oil Sample 0.5 ml
Out Of Stock
Notify me when available?
Description
A crystal bottle with a dark brown perfume color tells us that there is something deeply fragrant, mysterious, as if the night itself was hidden with its sinfully seductive fragrance.
With this perfume you will cover your oud and black musk as well as the finest silk. Then, with the graceful appearance of roses with saffron, you open up space for herbs and oriental spices. Thick perfume dresses you in the dangerous heat of the night, enter and let your skin pulsate with a touch of sandalwood mint with dense honey.
The indescribable depth of the perfume will engulf you, and your entry into the nightly ripples will be impressive. You radiate dangerous heat and seduction. Your fragrance leaves here immense distances, full of the seemingly incompatible hot sun, burning hot all day and a cool night with glittering stars.

Customer Reviews (3)
With Al Taif you put another beetle in my head. I had already ruined the pattern yesterday - I had only half of it anyway, I was completely sniffed to an empty vial. Although there may be no queues for him, I must say that the smell appealed to me with a beautiful perfume of resins and I am really with Al Taif in the old monarchy at the Vienna Court. It can be felt in a long time and from a distance. I took from you last year Mazaaj (which you no longer have), is also tuned to resin-sawdust-citrus. And I am very glad that I have the smell, because in the heat you cool and warm in winter. Al Taif is neither sweet nor bitter, exuding elegance. It is beautiful. Amazing consistency - honey-sprawling elegant delight from rare resins. I put extraordinary fragrance on my fingertips, on my wrist and back of my hand, and as I sweep it, the amazing fragrance gets into the space. / Of course with a snare stick even under the nose. My husband feels larch or pine in the oil. It is very surprising how roses can be processed. When I compare the consistency and fragrance of Al Taif oil, Combo cartridge and Collections cartridge - Al Taif leads and is definitely worth considering. Because, like Ghroob, Al Taif can be worn separately or can be combined. Al Taif is only in the formula, so I can not cast much. But what is not, may be because, as I say, it is worth considering - the bottle will certainly last long, because the oil is thick and the smell is very strong (even on me) and just a short touch with a stick. (12/31/2012 - Sylva F.)

Looking at the luxury cut glass, decorated with gold, hiding a liquid of dark blood and forest honey ... red-brown topaz ... the subconscious has told me what the scent will be ... Sin, passion, desire ... fast beating heart ... magic. Oud, warm musk, smoldering wood, a handful of dried herbs and spices thrown into the fire, a whiff of precious resin ... rose, dark, red, full bloom ... yes, she plays the main role and everything else revolves around her .. falls to her feet ... A red rose on black velvet in a cloud of smoke from a golden censer ... Ambra ... with the scent of warm lazily stretching dark honey ... labdanum with its soft bitterness ... soft skin. This fragrance is black as the deepest night ... the first star in the sky begins to shine ... The expedition returns home from the hot desert ... the heat radiates from the bodies of noble Arabian thoroughbreds ... she comes ... knelt down ... the most noble ... your mistress, the ruler of your life ... beautiful, how hot a summer night, in red-gold embroidered clothes, black long hair coalesce to the ground, how a waterfall ... goes to greet her faithful, but first .. her favorite horse ... her white hand caresses the dark shiny neck, perceives the accelerated heart ... love ... (25/12/2012 - Renée H.)

A big surprise was waiting for me in Al Taif - so it is a super rose, raw skin and especially oudík ... go. (May 31, 2011 - Marie Š.)

Have you tried one of our perfumes?
Let us know
how you like it!
Notify me when available?
You might also like