Al Rehab Sofia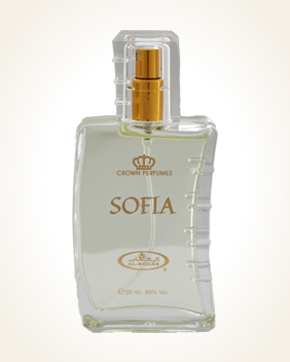 Al Rehab Sofia
Eau de Parfum 50 ml
In Stock
Eau de Parfum Sample 1 ml
In Stock
Description
The juicy nuances of crunchy pear and citrus bergamot open up the interplay with peonies lying on a wispy cloud of musk.
The concert aria of white flowers is supported by the light, bitterly flowing scent of floral leaves and freshly cut lilies. The delicate lily of the valley is luring a honey line of freesia into its icy kingdom and a majestic ambergris hidden behind the curtain.
Freshness, interwoven with chords of lemon grass, sprinkled with clear drops of water spray, and in the final parade will show its delicious track gourmet vanilla.

Customer Reviews (2)
At first, I wasn't impressed by this fragrance, I didn't want it, it doesn't smell like I imagined at first. But after the fragrance spread on my body after a long time, I realized how wrong I was. When it opens, it smells light, fresh and clean , it's absolutely amazing and addictive. The people around me react to it, you smell so beautifully and softly, for some it reminds me of washed, slightly fragrant laundry dried in the sun, for some it's like when I get out of the shower, for others it reminds me of a blooming meadow in the morning. I really like it, it's beautiful and I'm very satisfied. (01.02.2023 - Iveta U.)

Perfume Al Rehab Sofia I ordered in the dark, I was tempted by a price and a promising description. It was a hit! They are beautiful, delicate, and at the same time very feminine perfume, in my opinion they can be used all year long. The fragrance is floral, very pleasant, pulling the nose. (27.1.2019 - Marta, Poland)

Have you tried one of our perfumes?
Let us know
how you like it!
You might also like