Al Rehab Sabaya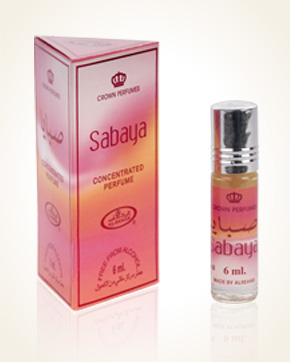 Al Rehab Sabaya
Concentrated Perfume Oil 6 ml
In Stock
Concentrated Perfume Oil Sample 0.5 ml
In Stock
Description
A pocket pack of oriental perfume, the big advantage of which is the small size (6 ml of perfume) so that it fits even the smallest handbag or pocket. In addition, perfume is very easy to apply using a ball in the bottle cap. So you can always have your favorite fragrance with you.
The refreshing scent of apple blossoms with intense lily shows you the way for a very beautifully laid lily of the valley with roses that are smoothed together with sandalwood. The aroma of juicy citrus and hidden green apple shows the variability of the various phases of this perfume.
The slightly cold tone dissolves into green corners dominated by leaves of flowers with drops of dew and stems covered with a bit of clay.
The whole floral composition with fruit gives fresh freshness.

Customer Reviews (6)
Sabaya is a beautiful floral scent. I ordered only as described, so I was full of expectations how satisfied I would be. The result exceeded my expectations. Awesome (2/9/2018 - Kateřina P.)

Mila, Mrs. Lenko, many thanks for the supply of fragrant delight. I have to admit that I have been looking for my fragrance for a long time, but I already came across Bahrain Pearl on my first order and could not get away from it, but since I am now on maternity leave, this perfume is unattainable for me, but .... something happened amazing, reading the Sabaya 6ml CPO perfume review, one amazing creature mentioned replacement for Bahrain Pearl and Naseem Lamsa, which is now Qadr ... Sabayu. For a few crowns and I just swing and swing and I can not get you a wonderful smell. It's almost identical to Pearl. Naderny and endure. Qadr I ordered a formula and again omanene senses, beautiful. I still liked Musk Abyad very much, but I will always come back to Pearl, Qadr and Sabay. :-) Thank you thank you, have a nice day. (2016-10-24 - Michaela U.)

For today's package I received from you, I have to write that Sabaya is an absolute top. Thanks to her, I'm back in the botanical garden full of magnolias and lilies. (04/10/2016 - Hana H.)

Sabaya - so there is no need at all for this perfume, because it's a charming, fresh, magical fragrance and, by the way, is all praise for it, as with the others I have. Once again thank you with all my heart for everything, for your willingness and a very nice, professional approach when I need advice. A lovely evening. (29/06/2016 - Milena P.)

Sabaya - kráááááááa, for the summer smell as done, these oils are really a small miracle. Luxury sheepdog, from which I am really excited (Jun 22, 2016 - Lenka G.)

Sabaya - O how my olfactory cells got sick and satisfied at the first scent. My immediate first lightning-fast thought was, jéééé hurááááá - that smells like Bahrain Pearl Edp. Floral fruity rich aroma, goes beautifully into space. The aroma of jasmine and orange flowers from the beginning interwoven with peach or apricot juice. In the spring I was looking for a replacement for Bahrain Pearl, Naseem Lamsa or Zahrat al Khalej (not available or sold out), I'm glad I don't have to look any further. I will definitely order again. Stamina several hours. The surrounding women's public stops me and asks what it is for beautiful and pleasant perfume. (May 1, 2015 - Martina M.)

Have you tried one of our perfumes?
Let us know
how you like it!
You might also like