Al Rehab Red Rose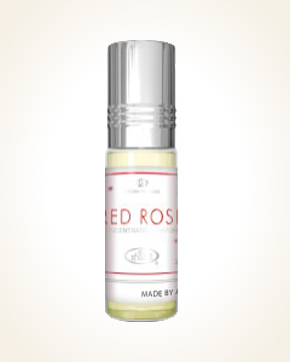 Al Rehab Red Rose
Concentrated Perfume Oil 6 ml
In Stock
Concentrated Perfume Oil Sample 0.5 ml
In Stock
Description
Pocket package of oriental perfume, the great advantage of which is the small size (6 ml of perfume) so that it fits into even the smallest purse or pocket. In addition, the perfume is very easy to apply using a ball in the bottle cap. So you can always have your favorite scent with you.
Experience the enchantment of the scent of red, large-flowered roses, which seem to be smoothed by a bit of fluffy musk, which hides a vanilla-delicious foam. The scent develops into powder tones.

Customer Reviews (9)
Al rehab red rose. As in previous reviews, I want to praise the smell of rose and powder. Cleanliness and freshness. And I didn't have to powder it three months ago. Keep holding on? It can be felt even after 8 hours at work. Bravooo. (09/10/2020 - Dominica. J.)

RED ROSE - beautiful fragrance, roses are not pushed down there as much as it could tell from the name, there is still "something" for me bitter, mysterious .. thanks a lot! (03/08/2016 - Hana D.)

Red rose - I admit that I have conflicting experiences with roses. So after much hesitation, I ordered another rose to test, - Red rose. At the first smell I was very pleasantly surprised. Almost immediately, my brain was categorized and fixed in the "beautiful" category. It is exactly the type of pink scent that I love and the only one I can "absorb". A handful of freshly torn pink buds dripping a little sap from cut pink stems and twigs, all dusty with a fair amount of powder dust. The smell is pleasantly smooth and soothing. I am very glad that I discovered it and that it is not such a sharp, impudent and prickly rose that I am almost afraid of (1.5.2015 - Martina M.)

Today I got another of your jewels and that is Red Rose. Again, a long-lasting friend in a purse with an unearthly beautiful scent of rose bathed in ripples of fine powder ..... : -) .... (Jul 8, 2014 - Alena V.)

Nurse Kenzo Flower ... also beautiful powder smell of lipstick and roses ... (2013 - Renée H.)

Red Rose - like the word Rose somewhere, I'm strained what the smell will actually be, because the rose has so many forms that it is impossible to estimate the result at all. This one is beautiful. Pink roses, actually buds, lots of powder powder and a little vanilla. The aroma is very similar to Kenzo Flower By Kenzo, but excels in more sophistication and depth. Really another beautiful piece. (5/15/2013 - Simona J.)

You are clothed in fragility and your soul is lost in time. You've been without a name, tenderness, beauty ... Mademoiselle Rose. (1/21/2013 - Dalia)

Large drops of dew dry slowly on the barely blooming buds of roses, and their sweet scent becomes incomprehensible, as well as the vanishing moisture of the summer morning. The first touch of Red Rose brings with it a water-saturated aroma of flowers. Gently vibrating narcotics in the burst of a new day. And just as the wet glitter decorating the world at that moment disappears under the touch of the sun's rays, so the Red Rose dries slowly and the pink fragrance reveals itself to the world in all its nakedness. A solo for a rose… baila en el espacio, before it is wrapped in a powder veil with graceful ease. Gentle pink powder. Red Rose, she's beautiful! Certainly excel in warm and very reminds me of Flower by Kenzo. Mademoiselle Rose… (1/21/2013 - Dalia)

Red velvet roses exhaling rich powder smell ... the smell of creamy lipstick with full pigment, dusted by the touch of powder puff with abundant dose of fine quality powder ...

Have you tried one of our perfumes?
Let us know
how you like it!
You might also like