Al Rehab Rasha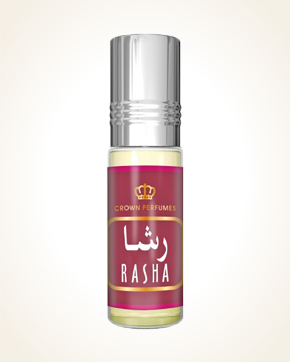 Al Rehab Rasha
Concentrated Perfume Oil 6 ml
In Stock
Concentrated Perfume Oil Sample 0.5 ml
In Stock
Description
Powder-flowered caresses open brightly-sounding tones of jasmine with softness hidden in roses. The flowers dissolve into the heat-radiating honey ambergris, to which saffron is easily added.
Fruity dense melange combines its sweetness with oud oil and envelops the fragrance in deeper chords.
A pocket pack of oriental perfume, the big advantage of which is the small size (6 ml of perfume) so that it fits even the smallest handbag or pocket. In addition, perfume is very easy to apply using a ball in the bottle cap. So you can always have your favorite fragrance with you.

Customer Reviews (2)
Rasha has two qualities - she is gentle and strong at the same time. Delicate fragrances usually do not smell long, but Rasha is a "holder". In the beginning, it seemed to me besides the stronger scents. Then I tested it myself and went totally crazy about it. It is as smooth as a pebble. I can not identify any flower separately and therefore it is a bit mysterious. And I like it on her. I can't help but feel a slight gust of something remotely reminiscent of the smell of cocoa. Like when cocoa is mixed with water. As I sat at the desk at work, a colleague passed me and shouted - "it smells beautiful here!" And I thought I could smell a lot only when I sprayed with perfume water. It's not so. Perfume oil is actually a concentrate that takes up minimal space in the purse. I gave my husband a scented hand from this perfume and I say - do you like this scent? And he - like ... yeah and power! As I say, I went crazy to Rashi and in a few days I paid her almost the whole thing. I recommend. (July 31, 2014 - Jiřina K.)

Rasha appealed to me with a beautiful mix of heavy flowers and gentle but still strong oud and great stamina. (June 19, 2013 - Simona J.)

Have you tried one of our perfumes?
Let us know
how you like it!
You might also like