Al Rehab Oud & Rose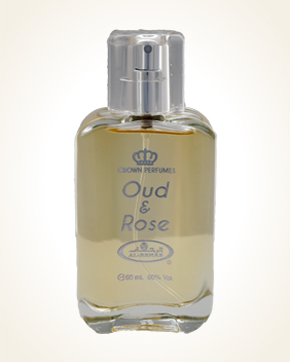 Al Rehab Oud & Rose
Eau de Parfum 50 ml
In Stock
Eau de Parfum Sample 1 ml
In Stock
Description
The mysteriously juicy blackberry attracts gourmet dark chocolate into its preserves, whose interconnection is superbly delicious.
The honey bed of velvet amber is laid intoxicatingly exciting, woody softness and spicy sweetness full of oud oil together with sovereign rose flowers.
Floral echoes also enter other chords, which warm up the earthy patchouli herb along with bittersweet saffron with undertones of skin.

Customer Reviews (3)
The second perfume is from Al Rehab Oud & Rose. At the beginning, you can only feel oud and roses, and this combination didn't go well with me, but after the bell, it's a great beauty. All day I feel like a sweet spicy rose and praise has also come from my husband. I like spicy scents and it never occurred to me that a combination of oud, rose and spice would create such a sexy show. Bought blind and I do not regret it. Greetings, (08.01.2021 - Renata S.)

The smell got me absolutely. Thank you very much for your oriental perfume shop. Your fan. (7/21/2019 - Ondrej D.)

Dear Mrs. Lenka, today I received a package full of beautiful fragrances and gifts. Thank you for the beauty, the wishes written by Mrs. Janka, and also for the additional sending of the Aziz samples. Your approach to customers is truly extraordinary, I am very satisfied and I recommend to all my friends (even unknown). I was firmly determined that I would only smell and smell each scent of the samples that came, and hand it over to my friend and neighbors who ordered the samples, saying that I wouldn't order anything for some time. I was wrong! Oud & Rose from Al Rehab got me. This is so beautiful, mysterious and sexy smell that I have to have it. The rose in this perfume is sweetly inviting, oud after an initial strong onset of a few minutes to bounce and let the beauty of the rose stand out. My skin is sweet-sour-smoke-smoke in the final. So I am sending an order immediately (not to sell) and I look forward to it. (06/07/2018 - Ivana J.)

Have you tried one of our perfumes?
Let us know
how you like it!
You might also like