Al Rehab Nadine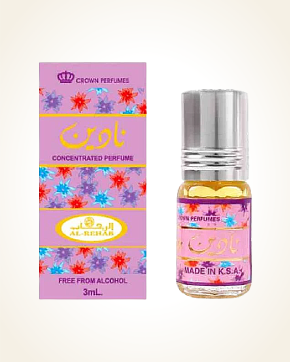 Al Rehab Nadine
Concentrated Perfume Oil 3 ml
In Stock
Concentrated Perfume Oil Sample 0.5 ml
In Stock
Description
The flower garden offers us the wonderfully wafting scent of jasmine, carnations, lilies, lilies of the valley and rose and tuberose peeking out from behind the curtain. A very pleasant and literally velvety caressing scent of all flowers with the gentle support of orange juice. After a longer exposure, you will smell a distant hint of smoke from burning rare rosewood.

Customer Reviews (3)
Nadine - is a very intense scent, and the memories it brings... can't forget Tendre Poison... and Nadine, it's almost accurate. Thank you for another oil from your offer. I am looking forward to the next one... (19.7.2023 - Petra Š.)

Nadine is a beautiful, strong oil. Indeed, there is a great resemblance to Tendre Poison, so we can relive the memories of it. (September 26, 2017 - Zdena B.)

Nadine - actually Arabic Tendre Poison, but because it has an oily consistency, it will last longer. (4/4/2013 - Sylva F.)

Have you tried one of our perfumes?
Let us know
how you like it!
You might also like