Al Rehab Mister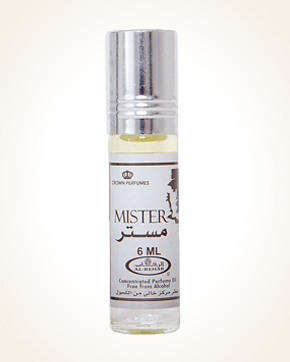 Al Rehab Mister
Concentrated Perfume Oil 6 ml
In Stock
Concentrated Perfume Oil Sample 0.5 ml
In Stock
Description
A light scent with musk-floral composition caresses the fragility of white roses, a gentle flood of meadow flowers spreading into juicy tangerines, lemons and sweet and sour apples.
The softness of cedar wood is linked to a playful water spray and a bamboo note. The aroma is soft, stray and pleasantly sensual.
A pocket pack of oriental perfume, the big advantage of which is the small size (6 ml of perfume) so that it fits even the smallest handbag or pocket. In addition, perfume is very easy to apply using a ball in the bottle cap. So you can always have your favorite fragrance with you.

Customer Reviews (3)
I ordered Gulick's perfume Mister from Al Rehab based on a review and I'm not sorry! Almost identical scent with Light blue from D&G with the fact that Mister goes more deep and is also fuller, at some point I even felt a slight hint of matte or salvia .. I'm afraid that 2 pieces will not be enough for me :-)). (04/28/2021 - Ivana J.)

Have a nice day :-) AL REHAB MISTERY-This is an amazing scent ... It reminds me a bit of Dolce gabbana light blue. It is such a fresh beautiful scent not only for summer full of juicy fruit with a dose of musk. :-) If it was in a bigger package I don't hesitate. :-) Greetings to you. (20/03/2021 - Aja J.)

Mister - very good choice. It smells like one perfume from the eu side but I don't know the name. Beautiful to smell even apples. Thank you, (20.08.2020 - Dominika J.)

Have you tried one of our perfumes?
Let us know
how you like it!
You might also like