Al Rehab Karina Rose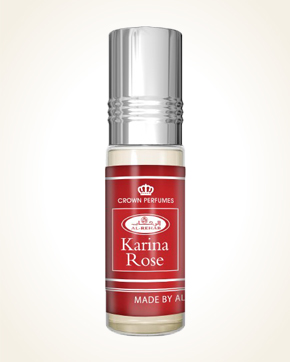 Al Rehab Karina Rose
Concentrated Perfume Oil 6 ml
Out Of Stock
Concentrated Perfume Oil Sample 0.5 ml
Out Of Stock
Notify me when available?
Description
A pocket pack of oriental perfume, the big advantage of which is the small size (6 ml of perfume) so that it fits even the smallest handbag or pocket. In addition, perfume is very easy to apply using a ball in the bottle cap. So you can always have your favorite fragrance with you.
The fragrance of the queen of flowers - the rose, can also be served in tones of "chypre", which will envelop you with a very special elegant game of seduction. To the rose is added the echo of the forest with its unmistakable aroma of trees, moss and damp clay.

Customer Reviews (6)
Karina Rose. I would like to praise this oil. I decided earlier based on a review because I love the smell of moss. The combination of moss and rose creates a non-fitting combination. The oil does not change its shape and is very intense. Well thank you. (10/10/2020 - Dominika J.)

Pleasant surprise in the style of retro clever smell. For me a descendant of the harsh, aldehyde Cabochard and pink Agent Provocateut. The perfume welcomes me with spicy saffron with jasmine tones, tinged with rough patchouli, salty moss and dry twigs. Over time, the fragrance softens and shows sweetish tones, I do not exclude ambergris, which is shown on the fragrance. The whole composition is tinged with dried rose, which does not stand out, completes the smell and goes hand in hand with saffron. For me, one of the most likeable Arabs I had the chance to try. (14/02/2018 - Anna Františka Č.)

And I also have to describe my impressions of Karina Rose by Al Rehab. Immediately after the application I had the feeling that I know some tones of the fragrance intimately, I just can not include it. Very, very attractive. And after about half an hour I know, On my skin, it reminds me strongly of Chanel's Coco noir, but much fuller and even more beautiful and mysterious. Nááádhera !!! Thank you very much for that, I am very happy. Thank you for having a nice day today. I wish you every such day, and throughout this year, you may be healthy and prosper. I wish all of this to Anabis (19.1.2018 - Ivana J.)

AL REHAB: KARINA ROSE (Didn't Mitsouko come this way?) When I ask, it's clear she went. And that is the point of this fragrance. But beware, I'm talking about a point, not copying. First, they are not the same and, if I understand it correctly, the intention might have been like that: Mitsouko is a legend, but in today's trend of confectionery fragrances with ovo-patchouli and almonds in caramel you stand out with it on the street. Even her trail proudly rises like a buoy of discipline and sophistication. But this superiority can be damn appealing. Let's say we only build perfume on that lingering trail. Will he succeed? Perhaps yes ... The current wave of popularity of "Arabs" or perfumes originating from the Arabian Peninsula and its surroundings gives her a chance of success in her country. The trouble can only arise in the fact that you do not expect between their typical sweet flower and fruit production of chypre. And maybe you overlook, because those who do not notice immediately, even scattered multiple samples, Mitsouko will slip away, the initial form will dissolve immediately, so you probably say, uh, strange dry wood, as if washed by the sea and a little salty, interspersed with dry peach and dry roses, interestingly. The turnaround is so fast that I thought it was a delusion. And hardly believed, Karina Rose began to return to Mitsouko. Unobtrusively, perhaps after millimeters, the soap impression rises. It is not exactly a lichen, these soaps are not cool and iridescent like a changeable glass, and they are not scratching when they are so biting, not sharp, but rubbery dryness. Who you know saffron in scents, so it is exactly, after all, in the composition is listed and can be beautifully identified. And the development goes on, the dried fruit disappears, then the roses and the wood remains under the changeable green-blue glass of lichen. Where did he come from? I really don't know. In terms of composition, "Arabs" are a big secret. Here the lichen do not admit, but the longer the smell on the skin, the stronger it smells. Where Mitsouko begins, Karina Rose arrives after a few hours and surpasses the legend in the final. The overall impression is at all times more intimate and less stratified than the guerlain classics, but thanks to this it can be easily taken where the Cyprus show the door. Karina Rose is a CPO with excellent durability, a few hours longer than the Mitsouko toilet. (08/08/2014 - Dzona)

By the hot days and the sun-hot streets she had become my loyal companion to Karina Rose. It can remain majestic and invariably fresh, no matter how thirty degrees on the thermometer. (08/07/2014 - Alena V.)

Karina Rose - as I hear or read about roses, I wake up, because not always and not every rose smells me. Karina Rose is a wild wild rose somewhere on the edge of a pine forest full of fallen needles trampled into rain-soaked soil. Nearby grows camomile and bitter wormwood. The rose fades away slightly and there is a hint of candied lemon, a seemingly inappropriate perception, but oh, the result is so unconventional that the breath takes off. In the end we go back to the forest, where the rose has faded and there is only an arrow left in the middle, freshened with dew in the evening, bushes. (08/03/2014 - Simona J.)

Have you tried one of our perfumes?
Let us know
how you like it!
Notify me when available?
You might also like