Al Rehab Green Tea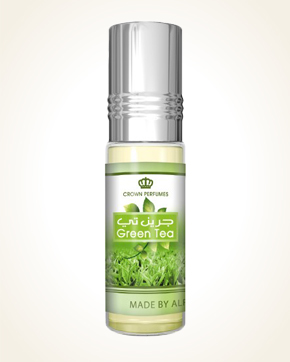 Al Rehab Green Tea
Concentrated Perfume Oil 6 ml
In Stock
Concentrated Perfume Oil Sample 0.5 ml
In Stock
Description
A pocket pack of oriental perfume, the big advantage of which is the small size (6 ml of perfume) so that it fits even the smallest handbag or pocket. In addition, perfume is very easy to apply using a ball in the bottle cap. So you can always have your favorite fragrance with you.
Perfume caress for lovers of fresh fragrances, which could be compared to the summer refreshment of lemonade, above which floats a fluffy cloud of tender musk. Smell of green tea with a slice of lime and a sprig of mint. The aroma is complemented by a juicy acid lemon.

Customer Reviews (4)
Al Rehab Green Tea - a beautiful fresh pure citrus scent with a light bitter haze. I can really smell the believable scent of chilled green tea with sliced fresh lemons. It stands out for both men and women. Your scents are just magical .... addictive .... I still have a desire to discover new ones .... I know that I repeat myself, but I am very glad that you exist ... A beautiful pre-Christmas time for you all :-) (04.12. 2021 - Romana V.)

... I just picked up the package. I must admit I couldn't resist unpacking it with my friend before coming home. The scents are amazing. I was mainly curious about Green Tea and is even better than I expected. Good on it is a small package, which suits me the most, because I need to change the smell from time to time. (15/09/2014 - Milena B.)

After several years of searching, I discovered an amazing fragrance that smells fresh, pure, unique. I can make her in the morning, at noon, in the evening ... I'm totally dependent on her. It is my love". (June 24, 2014 - Zdenka K.)

Green Tea is like a crystal cut wide glass, decorated with a slice of lime on the edge, filled with refreshing cold green tea, with slices of lemon sliced in quarters and some mint leaves in the bottom between the ice cubes. Perfect refreshment on hot days. Not just a drink, but also oil. Green Tea is a very successful tea scent. Initially striking lemon acid, sparkly juicy, with essential oils rising from freshly grated lime peel. This introduction is fleeting, and then the citruses merge into chilled green tea with a bergamot flavor to settle in a sleek, fresh form, tinged with a faint gust of sweet musk. Ideal for summer. Can anyone tell me why I just bought one rollon? :-) (3/17/2014 - Andrea Ž.)

Have you tried one of our perfumes?
Let us know
how you like it!
You might also like