Al Rehab Grapes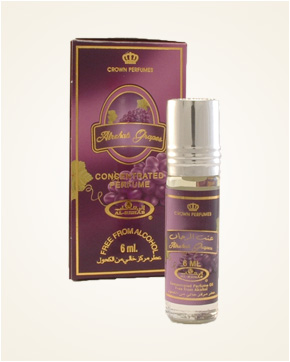 Al Rehab Grapes
Concentrated Perfume Oil 6 ml
In Stock
Concentrated Perfume Oil Sample 0.5 ml
In Stock
Description
A pocket pack of oriental perfume, the big advantage of which is the small size (6 ml of perfume) so that it fits even the smallest handbag or pocket. In addition, perfume is very easy to apply using a ball in the bottle cap. So you can always have your favorite fragrance with you.
The sweetly juicy aroma full of ripe grapes blends with the soft purity of musk. The fruit echoes are also added citrus and a slight hint of wind mint.

Customer Reviews (2)
Al Rehab-Grapes, it is again a smell, it is delicious, fragrant, wonderfully scented, so smoothly and gently smells that it can not even describe, is just wonderful, I feel grapes, but such a nice yummy juicy, complemented by musk ... yum, really, this little miracle is worth trying, thank you very much ... (3.1.2017 - Jana C.)

... beautiful fruity, fresh aroma, great for summer (18.5.2015 - Miloslava P.)

Have you tried one of our perfumes?
Let us know
how you like it!
You might also like