Al Rehab Golden Sand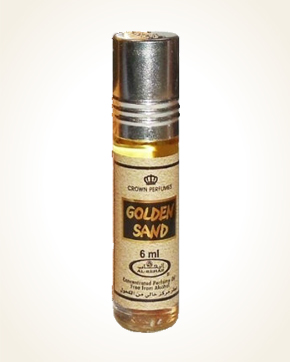 Al Rehab Golden Sand
Concentrated Perfume Oil 6 ml
In Stock
Concentrated Perfume Oil Sample 0.5 ml
In Stock
Description
The fruity lure of tangerine with the intoxicating aroma of peach in a unique harmony with the irritatingly warm trace of vanilla and musk, that's Golden Sand.
A pocket pack of oriental perfume, the big advantage of which is the small size (6 ml of perfume) so that it fits even the smallest handbag or pocket. In addition, perfume is very easy to apply using a ball in the bottle cap. So you can always have your favorite fragrance with you.

Customer Reviews (2)
Greetings to Mr. Lenka and all nice ladies in the fragrant kingdom :-) Thank you very much again for the fragrant package and gifts .... I'm so carried away ... I'm still sniffing and I can't get enough ... Golden Sand - I wrote once, for a small package, it's a decent snug pure pure vanilla. I don't understand my previous assessment now. I'm in a hurry to fix myself: It's a beautiful, mysterious, seductive, erotically tuned vanilla! (04/12/2021 - Romana V.)

Good evening, today I picked up the package at the post office and eagerly opened all the bottles. The smell I like the most so far :-) is Golden Sand, the creamy vanilla puts me in a very nostalgic mood, as I'm in a flashy confectionery, it smells like desserts and vanilla ice cream, here and there I get a fruity tone, but vanilla vanilla predominates - beauty. Thank you (05.05.2020 - Jirina S.)

Have you tried one of our perfumes?
Let us know
how you like it!
You might also like