Al Rehab Dalal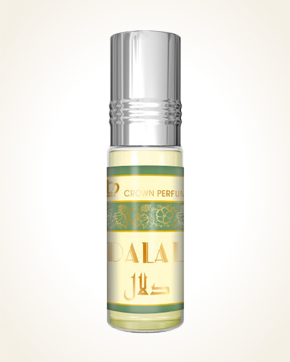 Al Rehab Dalal
Concentrated Perfume Oil 6 ml
In Stock
Concentrated Perfume Oil Sample 0.5 ml
In Stock
Description
A pocket pack of oriental perfume, the big advantage of which is the small size (6 ml of perfume) so that it fits even the smallest handbag or pocket. In addition, perfume is very easy to apply using a ball in the bottle cap. So you can always have your favorite fragrance with you.
The fragrance of the lotus flower with a hint of litchi, frees up the space for picking passion fruit and a glimmering gust of mint. You will feel a light cool refreshment even on your skin. The whole composition is wrapped in a pleasant musk.

Customer Reviews (1)
Dalal is like a big meringue sprinkled with almonds and a drop of lemon juice; Dalal is one big treat in which tastes and smells spill into one another and blend into a sweet, smooth and feathery, light scent. This is how it must smell in the heavenly confectionery. Beautiful gourmet fragrance from the category of very good, whose charm I could only appreciate in the winter. ňami ňami :-) (19/12/2014 - Andrea Ž.)

Have you tried one of our perfumes?
Let us know
how you like it!
You might also like