Al Rehab Cherry Flower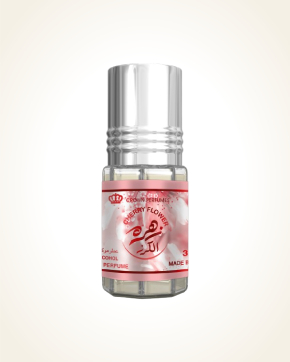 Al Rehab Cherry Flower
Concentrated Perfume Oil 3 ml
Out Of Stock
Concentrated Perfume Oil Sample 0.5 ml
Out Of Stock
Notify me when available?
Description
A pocket pack of oriental perfume, the big advantage of which is the small size (3 ml of perfume) so that it fits even the smallest handbag or pocket. In addition, perfume is very easy to apply using a ball in the bottle cap. So you can always have your favorite fragrance with you.
As the name suggests, there are magnificent cherry blossoms in a direct concert performance. With other tones comes freesia, whose combination with the cherry is heady irresistible, adds musk and the whole is absolutely amazing.

Customer Reviews (4)
Cherry Flower is a rich, blooming cherry blossom with wonderful smell and perfect stamina, another oil for my collection (May 18, 2015 - Miloslava P.)

I don't know why, but when I first saw the Cherry Flower box, I was expecting a cherry fruit tree with flowers. What a surprise, though, that this was not happening. Cherry Flower is a fleece, sweet, rich, yet delicate scent of cherry blossom that stands out against the backdrop of other white and pink flowers. Cherry Flower is like a cherry cherry, wrapped in a fluffy veil of tender flowers in May, inviting lovers to the first kiss under the romantic vault of musk fluffy, sleek, elegant fragrance that says goodbye to a light gust of burning wood. For me a very pleasant surprise crowned with perfect stamina. Another wonderful oil from the "must have" category. (Aug 26, 2014 - Andrea Ž.)

Musk Al Aroosah - musk is beautiful, immediately after taking over I tried with a drop of water to spread the arms and face and smell wonderful. .... and chocolate candies .... Mrs. Wech, please think of our line, it will be spring and the delicacy of such goodies is as irresistible as the smell. Have a nice day and thank you for your willingness. (03/03/2016 - Zuzana K.)

Cherry flower beautiful fragrance of pure fresh sweet. I repeat, but you really have the unearthly smells of angelic gardens, it really is luxury, they are so fresh, strange, just unique, magical, when you smell the first time, then you come shocked, you are captivated and unable to speak. This is how your fragrances work. (8/21/2013 - Romana V.)

Have you tried one of our perfumes?
Let us know
how you like it!
Notify me when available?
You might also like