Al Nuaim Chocolate Musk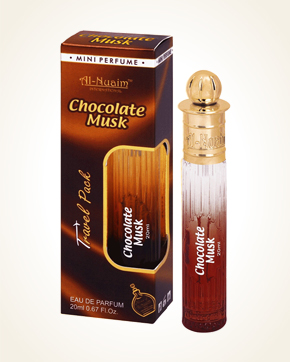 Al Nuaim Chocolate Musk
Eau de Parfum 20 ml
Out Of Stock
Eau de Parfum Sample 1 ml
In Stock
Description
The desire - to dive into vanilla chocolate mousse and just enjoy the feeling of incredible ... - that's Chocolate Musk.
The symphony of gourmet aromas begins with a darkly seductive cocoa with caramel vanilla, hyponotizing chocolate praline. Chocolate chords resound their velvety sinfulness, to which is added a vanilla aria with a sensual sound of musky intoxication.
Vanilla transforms keys from softly creamy, delicately whipped to a dry, vanilla-powdered footprint, creeping in delicate purity, embroidered with orange blossoms and sweetly full ylang-ylang, hiding banana nuances

Customer Reviews (2)
Like my namesake, I "tasted" both chocolates ... and I got it the other way around. Choco Musk is sweeter and more layered with vanilla, while Al Nuaim's Chocolate Musk seems cocoer (and therefore drier). These two scents are like milk and dark chocolate. Despite all the recommendations on healthy nutrition, my language clearly prefers milk chocolate, but my nose is demanding dark ... So for me Chocolate Musk wins (September 24, 2019 - Petra P.)

Hello, I have just opened the third package from you (third in a very short period, because I can not resist and ordering more fragrances) and I am so excited that I have to write and share my enthusiasm! Immediately after the package was opened, a mixture of wonderful fragrances breathed on me, and my enthusiasm did not stop when I saw how beautiful all the perfumes and samples were packed! And my joy was far from over! In addition to two valuable and wonderful gifts, two more free samples awaited me! You are unreal !!!! I haven't met that in another store! I have only tried Al Nuiam Chocolate Musk so far and I want to share the experience because it is new. Doesn't smell bad at all ... pure chocolate! For lovers of gourmet fragrances, I would recommend buying blind! Last time I ordered Al Rehab Choco Musk and I have to say that I like it a little bit more, because it smells of vanilla that enhances the sweetness of chocolate. But what matters most to me is that Choco Musk is quite intense and distinctive. Al Nuiam feels only slightly on my wrist, but Al Rehab still smells as intense as after spraying. In any case, both scents are wonderful and chocolate lovers can not be disappointed with either. I thank you for the third time for perfect service, wonderful smells, willingness and patience with us - customers! I really appreciate the handwritten message on the invoice, it means a lot to me! Have a nice fragrant summer! (7/22/2019 - Petra N.)

Have you tried one of our perfumes?
Let us know
how you like it!
You might also like