Al Haramain Shefon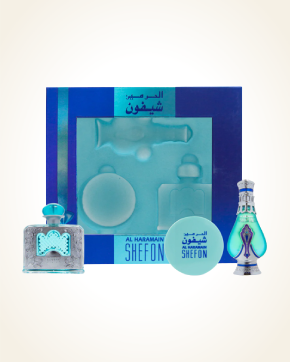 Al Haramain Shefon
Eau de Parfum Sample 1 ml
Out Of Stock
Description
Shefon gift set contains: Eau de parfum 60 ml, Body Lotion 100 ml, Deo Spray 200 ml, silk scarf 170 cm x 60 cm in turquoise - green - brown design.
The cool shade in the forest welcomes you and opens its tree gate of comfort and dreaming. You will feel shelter from the heat along with the icing freshness of menthol, your nose will be dazzled by lemon and orange, it will bind vodka on ice and gently caress cedar with moss.
It is a very encouraging men's perfume, which starts with the same rapid refreshment as the first raindrops from a summer storm.
Prepare your olfactory cells for a pleasant Shefon fragrance that will guide you through the day and bring a lot of refreshing experiences and pleasantly surprise you with its long-lasting fragrance.

You might also like