Al Haramain Mukhallath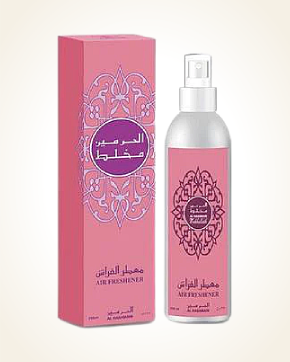 Al Haramain Mukhallath
Air Freshener 250 ml
In Stock
Description
Oriental air fresheners are very pleasant and delicate scents that you can use in the whole apartment. If you spray the air freshener into the air in a room where you have a carpet or a sofa - the scent will stick to them and pleasantly scent the entire space for a very long time.
The breaking waves of the stormy ocean, which hit the rocks, which slowly turn into beautiful gardens full of flowers and rare trees. The air is saturated with their scent and the freshness of the water...
Rose and dry to explosively dusty saffron, blending into patchouli with its earthy green trace - open another fragrance line, continuing into softly caressing woods led by cedar, sandalwood and guaiac wood. In the light, final phase of the fragrance, aquatic notes appear again, accompanied by the sensuality of musk.

You might also like