Al Haramain Basma Bleu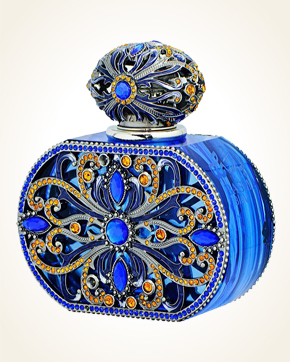 Al Haramain Basma Bleu
Concentrated Perfume Oil 20 ml
Out Of Stock
Concentrated Perfume Oil Sample 0.5 ml
In Stock
Notify me when available?
Description
Luxury and luxury opens its doors with an exclusive royal blue flacon, concealing the tenderness and depth of a uniquely sensual fragrance. Enter and be enchanted with the first drop of this fragrance essence.
The fruity juicy warp is opened by refreshing citrus, which is dominated by deliciously sweet tangerines blending with the sour echo of lemons. The fruit is accompanied by a smooth velvet whiff of her Majesty - the Queen of Flowers. The rose deepens and rounds the fruit line, showing its nuances that change from the light-smelling scent of almost blooming buds to the powdery, elegant elegance of full-blooming flowers.
The floral score continues with a delicate hint of violets that lends the composition precious iris roots revealing fluffy softness.
The woods enter the scene with the softness of smooth sandalwood, adding nagarmoth, revealing sweetly oriental tones, with a spicy touch that will also pick up coriander and the first vanilla-sounding echo that adds gurgun balsam.
The final onset of the irrepressible, honey-soft ambergris is accompanied by the whipped foam of gourmet vanilla, whose gourmet seductiveness is underlined by the variations in the tender tenderness of musk.

Customer Reviews (1)
Basma Bleu deceives the body. Well, sorry, a perfume bottle ... which is, by the way, breathtaking. But after all… after me, the color of this smell is brown, in various shades; Maybe because Basma Bleu looks like a fresh balsamic woody scent on my skin. Iris, ambergris and vanilla are also there, but only to smooth out the wood that plays a major role here. In the first few moments I was a little disappointed: such a jewel and I feel "just" wood. My partner, on the other hand, was thrilled; the scent enchanted him so much that she still forced him to smell his hand and blink his eyes. In addition to Swiss Arabian Wajd, Basma Bleu is the only fragrance he is willing to wear; and that for a man who has professed the natural scent of man (including women) all his life, to say. The quality of the ingredients is not only evident on the first impression: this perfume acts on me as a perfect aromatherapy, which can only purely natural and purest fragrances. Not to exaggerate when I say that with the smell of "Basmy" I am returning to my center. Bottom line: for me, Basma Bleu is like a cure for the soul. For those who love woody scents, it can mean a dream come true. (8/10/2019 - Petra P.)

Have you tried one of our perfumes?
Let us know
how you like it!
Notify me when available?
You might also like