Abdul Samad Al Qurashi The Black (Al Hajar Al Aswad)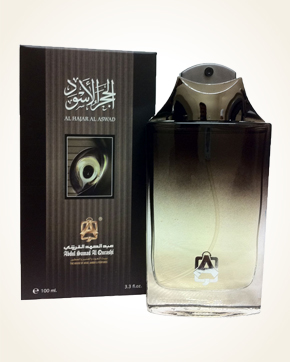 Abdul Samad Al Qurashi The Black (Al Hajar Al Aswad)
Eau de Toilette 100 ml
Out Of Stock
Eau de Toilette Sample 1 ml
In Stock
Description
There is another fabulously exclusive dreaming of the perfume house Abdul Samad Al Qurashi.
Al Hajar Al Aswad shows us the fragrance of a gentle, longing, stroking, seductive, warm and yet fresh.
The initial timid tones belong to daffodils in their full bloom, which brings with them a soapy scent, but so beautifully rendered and wrapped in saffron that you are reluctant to believe that you are presented with an oriental perfume.
The warm tones of velvety ambergris, gentle touches of palm wood, the special scent of hawthorn and musk will bind you up and will certainly not leave you in doubt about the uniquely composed luxury scent. The freshness is associated with the juiciness of dark grapes.
The depth of the rose petals is only indicated here, it is like a secret waiting for you to be discovered. In this beautiful perfume you will also find traces of the smoke of burning pink rosewood and a light whiff of vanilla pods.

Customer Reviews (4)
Good evening, so today I picked up Al Hajar Al Aswad ... I'm blown away. A really beautiful scent. I love pure fragrances .... even if yours are amazing perhaps all ... (21.6.2017 - Kateřina M.)

To the misfortune of oriental fragrances, there is often hardly any information about them, yet we Europeans are obsessed with them. With this perfume, I could only figure out that the name is meant to be "sacred black stone." It pleased me, for it was at least clear that the peace and dignity that flowed from the scent was the intention. He can do without incense and lilies, the black stone is heading for a soothing purity that reminds me of Cabotine, a classic of the Gres brand. The same cold wet wood with a metallic hint of cigarette smoke and cool flowers, in the case of Al Hajar waxy, and even more withdrawn. It has its charm, but rather than spiritual, it is the shy elegance of old-fashioned style. After a few hours, the moisture and cold disappear and the flowers get a more vivid color thanks to rose and jasmine, which lasts for a long time. (10/26/2013 - Dzona)

I tried this one from my formula to my husband, he said he would go to her ...? I bought it for his birthday, but oh ... her soap cleanliness and the comfort she carries brought me straight. So I go to him and my husband wonders how that is so fast: -) (Jul 2, 2013 - Patricie B.)

Beautiful, tender with a luxurious soap hidden behind saffron, as the smell blends into the skin, it turns into vanilla, but only a little and affects my good mood throughout the day, gently falling asleep in the evening - that's Al Hajar Al Aswad. I like light scents, and I really didn't expect to find one in the oriental world. This perfume, it's a cobweb seduction, with daffodils in a botanical garden, and then I still feel a little smoke, very beautiful. (10/06/2012 - Dana K.)

Have you tried one of our perfumes?
Let us know
how you like it!