Ajmal Essentials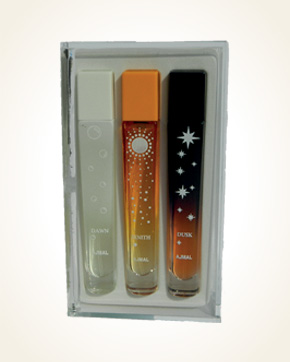 Ajmal Essentials
Ajmal Essentials Zenith 20 ml
Out Of Stock
Ajmal Essentials Zenith 1 ml
Out Of Stock
Notify me when available?
Description
In this cartridge you will find three perfumes, each containing 20 ml.
DAWN
Very fresh fragrance, the ginger and mint show up at the beginning to make room for a more subtle tone of sandalwood and freshly cut grass after a while. Citrus headed with lime and bitter grapefruit peel aroma are also added. The end is perched on a wave of cedar wood.
ZENITH
The smooth, delicate scent of sandalwood, cherry and orange blossoms puts you in your embrace, as does the soft scarf around your shoulders. After a while you will also feel raspberry nectar, a hint of jasmine will let in a little vanilla, which just flickers at the end of the scent of perfume.
DUSK
Mysterious and seductive perfume at the beginning of a concert of musk, saffron and passion fruit. A very special scent of violet on raspberries with caramel undertones clears the way for a rare black orchid and amber.

Notify me when available?