Ajmal Collections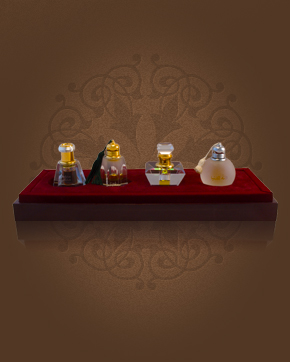 Ajmal Collections
Gift Set 4 x CPO 3 ml
Out Of Stock
Notify me when available?
Description
A cassette of four absolutely exclusive perfumes, hidden in crystal perfume bottles, offers you an unusual experience of these luxurious, oriental fragrances. The collection is designed so that you can use individual perfumes separately or combine them in different ways to create your own unique perfume experience with a distinctive fragrance. Each bottle contains 3 ml of pure perfume.
SARAH
A perfume that delivers the pure fragrance of a noble lily, accompanied by a lily of the valley and a fresh gust of ginger. Here the musk gains space to lift the fragrance into very seductive tones.
AJMAL
Rose with jasmine and sandalwood surrounds you with an incredible fragrant flood. It is directly a work of art, the bottle itself is cut in the shape of a diamond.
DANAT AL DUNIYA
Here you will enjoy oriental spice headed by cardamom, cloves and a pinch of saffron to make room for a flower explosion. Magnolias with a carnation, prosecuted roses with delicate violet show the way of fresh mandarin. Finally, the perfume is magically shrouded in sandalwood and musk.
MUKHALLAT MALIKI
The perfume will show you the orient in its full strength. One of Ajmal's most exclusive perfumes will be presented by the scent of raw skin, wet moss, rare wood species. All this you can feel from this very rare oud oil. It is a bitter tone with a hidden rose that can be beautifully combined with other perfumes while highlighting their individual fragrance ingredients.

Customer Reviews (8)
I tried to combine Sarah with Ajmal by Ajmal and in the end it sounds like a darker floral composition based on precious woods, a luxurious orient in a very elegant concept. An irritating smell, but not vulgar, suited to the company, but also for two in the evening, either over a glass of wine or sitting by the fireplace in a quiet evening. Stamina excellent, sticking to the body, which its temperature makes it stand out its distinctive beauty. And perhaps I do not have to add that all four gems have excellent durability, intensity and quality of ingredients, as is already the case with arabeks custom. (2/10/2013 - Renée H.)

Today I have a day of Ajmal - I had it in Paskov Mine - where I was on business. I smell even now, the whole ladies bathroom in the Paskov Mine smells after me, which is not very welcoming, smells after me scents, towels, etc. Yeah, good smell is good smell. (1/16/2013 - Sylva F.)

My reason "does not take" how it is possible to create "something" that puts my fragrant dreams somewhere in the darkness of ignorance ... When I meet you and with the oriental perfumes, I experience take-offs into the cosmic desires of never-ending intoxication. Cassette Collections - an artistic miracle, jewel whether visual or olfactory. Can I really? - Perfume bottles hiding something so unique - the passion of bringing fragrance to the outside world, to use? I find here the secret of the art of Oriental masters, which deprives me of ignorance ... (3.8.2012 - Pavla Z.)

Collections is a cassette of four exclusive pure perfume oils that can be used on their own or combined with each other at will, so you can mix the orient to your liking, mood and occasion, work with them interestingly and let your creative spirit go. It would certainly be an interesting gift. Quality is recognizable here when the bottle is first opened… Sarah, Ajmal by Ajmal, Danat Al Duniya, Mukhallat Maliki - four Ajmal cult scents like miniatures in a gift box. One of the most popular fragrances together.

Mukhallat Maliki, one of the most exclusive oud compositions ever, a reference to traditional Arabic perfume art, handicrafts and original fragrant "potions". Mukhallat Maliki - grandiose mixed oud composition. Quality and luxury make it feel right. Ancient chest of precious wood, divan coated with well-treated firm skin, moisture of dark deep forest, bittersweet raw ambergris, drying red rose, its flower crown humbly lowers… smoke from burning resins… slowly warm and sweet, lazily dense thick forest honey… I see it in the colors… dark brown with gold reflections… a polished topaz crystal… I think that combining all three floral compositions with this oud oil will make them all more interesting, deeper and deeper.

Launched in the mid-1990s, Sarah was supposed to connect East with West, showcase the best of the Eastern world, tradition, quality and classic oriental elements to the Western world ... Sarah - this is almost an Arabic reference to the original Opium or Cinnabar , warm dense oriental wood and spice composition, complemented by flowers. Sensual and stunning. Rich rose with warm sandalwood, a little jasmine, a portion of warm saffron and a soap-powder carnation. At times, she reminds me of Khawla, but Sarah is smoother, more sophisticated, and more pleasing to my sense of smell than Khawla, who, although it is a beautiful scent, has a somewhat harsh and impersonal effect on me.

Ajmal Ajmal, a fragrance created at the beginning of the millennium to mark the 50th anniversary of the Ajmal brand ... Ajmal by Ajmal - a royal lily with its slightly intoxicating sweet scent and velvet yellow pistil pollen, a warm trace of spice and a pure musk scent, like a body after bath, a little non-sweet powdered vanilla scraped off with a sharp knife from a dry pod… Elegant lady. After adding Mukhallat Maliki oil, the smell is smoother, the oud component gives it greater depth and a sparkling ginger, which I do not perceive when testing Ajmal alone, there is only some spicy trace for me. With its oud, its spicy refreshing tip stands out convincingly.

Danat Al Duniya, the flagship of the brand, a new face and one of Ajmal's best-selling perfumes ever ... Danat Al Duniya - the joyful scent of airy flowers, fruits and spices, a positive charge from it all over the pores. It is like a beautiful spring day, when the sun slowly takes over and warms the cold earth with the first strong rays. Clean air shakes with the aroma of white musk, delicate flowers of satin pink magnolia with narcotic hyacinths and tiny flowers of Chinese carnations, under the bush of elderberry someone grinded the head of a tea rose and tossed petals into dewy green grass. apricot and tangerine fruit, fine old porcelain teapot welcomes the day with the scent of fresh jasmine tea with cardamom and a touch of saffron…

Have you tried one of our perfumes?
Let us know
how you like it!
Notify me when available?