Ajmal Aurum Oil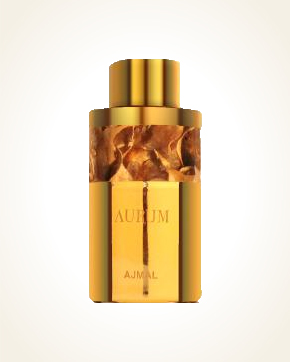 Ajmal Aurum Oil
Concentrated Perfume Oil 10 ml
In Stock
Concentrated Perfume Oil Sample 0.5 ml
In Stock
Description
Aurum, or gold, is presented in a full gold flacon and offers us an exclusive, extraordinarily intoxicating yet gently flowing fragrance that speaks the language of luxury.
A smooth introduction gives us a silky, musky tone of musk, backed by fresh lemon, sweet-sounding raspberry and tender orange flowers.
You will get a completely intoxicating hug with the opulent gardenia and jasmine. Golden magic continues on the waves of precious amber with gourmet vanilla.
The depth with light touches of the Orient will be stretched out by a bed of velvety honey ambergris, which is permeated with heat reflecting the sweet notes of precious woods.
The perfume tells us a story full of sparkling, like a summer sky lit by the warm rays of the sun that fall on you in golden reflections, as well as the drops of this almost sinfully fragrant perfume.
The fragrance is made of perfume oil and is applied directly from the flask, for example on a finger to smell the smell on your wrist, décolletage, or anywhere on the pulse points.

Customer Reviews (6)
Good day. Today I picked up a package of Aurum perfumed oil at the post office - a really beautiful scent. I have been going to do this for about 2 years since I received a sample of this fragrance. Then he was sold out a few times - and now it worked. I will definitely order EDP as soon as possible. With this small amount, I just wanted to confirm that the smell really suits me. And most of all, I wanted to thank you for the amazing speed with which my order was processed. Thanks again! Sincerely (14.08.2020 - Jana SR)

Hello, I ordered a few fragrance samples from you, but I was totally captivated and enchanted by Ajmal Aurum, I had no idea. I just finished a tiny pattern and I found that without this fragrance is a day just ordinary :-)) He misses the "WOW" effect, which gives him just intoxicating and magical fragrance Ajmal Aurum. I really need it :-)) Thank you very much for being and giving us what we desire for women. Yours sincerely (Apr 28, 2019 - Milena S.)

I received a Christmas magic pack today. I will begin with what I owe to Ajmal Aurum Oil-love for the first smell-the smell of flowers until I couldn't stand and smelled with him for the night. It reminds me of the fragrance of the Tuzex perfume - how all the fragrances have always been mixed there, and the result is Ajmal Aurum. Heaven on earth. Fragrant floral rainbow. I don't even know what individual components I feel there, because it gives me an amazing olfactory concert. And I don't even want to search for individual tones - I want to get drunk on the whole song ... I still ... love it. I would also like to thank Mrs. Lenka for letting me know that the smell that was sold out is already in stock. Not only do the fragrances of Anabis care about us, but also the two ladies, for which I send them warm thanks. I love your personal approach to clients. Your handwritten greetings on the delivery notes are proof of this, today it was Mrs. Jana. It's so nice and I dare write personal. Order Despite the Christmas frenzy arrived soon-hat down! Ajmal Aurum arrived - review above, Pheromone Perfumes Attitude Femme-he waits for the review, because I'm just going to put on it. And now a stone! - presents! Thank you very much for them, I'm so happy about them, I can't even describe it. Juchůůůůůůů !!! And not to mention just fragrant :-D Dear ladies, Lenko and Jano, I wish you a beautiful and relaxing Christmas, full of fulfilled wishes and love of my loved ones. I wish all Anabis all the best in the new year, and continue to make happy and more and more satisfied customers. Your faithful (19.12.2018 - Rena K.)

Today I got AJMAL AURUM OIL and I can not get enough really beautiful, intense and fresh fragrance. It's my first experience with perfume oil, and I'm really excited about the perfume stamina. Thank you also for the gift samples. (5/22/2018 - Zuzana P.)

Hello, I received a fragrance shipment yesterday. I'm totally enchanted! I purposely ordered more samples for the first time to get some idea of oriental fragrances because I don't know anything about them. My finding is: fragrances are amazing all! I chose according to the descriptions on the pages, which are very concise and I think that according to them you can choose well to your own taste. To highlight at least one of the fifteen tried - Ajmal Aurum is exactly as others have described before me. Heady, beautiful. Thank you very much! I'm sure I want to know more. The extra gifts in the order made me happy and welcome to the world of oriental fragrances too. (1/19/2018 - Sylva N.)

Good evening, Aurum oil has my absolute dependence ... :-) EdP is beautiful, but it does not stick to my dry skin, but the oil is beautiful and holds until the next day. Beautiful floral scent and long hold time. Thank you again and have a nice holiday to all Anabis. (14/12/2017 - Mirka P.)

Have you tried one of our perfumes?
Let us know
how you like it!
You might also like