Afnan Ornament Pour Femme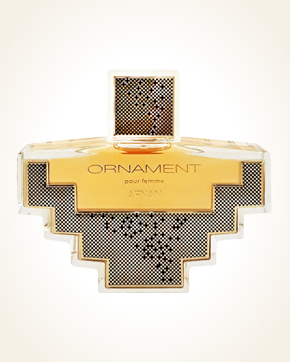 Afnan Ornament Pour Femme
Eau de Parfum 100 ml
Out Of Stock
Eau de Parfum Sample 1 ml
Out Of Stock
Notify me when available?
Description
The Duo Ornament attracts women into its fragrant gillnets in golden shades, and the silvery decoration of perfume bottles belongs to men.
The opening, delightfully seductive play of fruit is accompanied by juicy oranges with sweetly spilling tangerines, captured by the delicious melange of ripe peaches, whose gourmet wave is complemented by softly swaying coconut shavings.
In the second stage of the fragrant recital, the opulent tones begin with a concert duo of brilliantly passing, white flowers - intoxicatingly sweet gardenia and with perfect elegance, a magnificent seductive magnolia. Their strength is moderated by a few echoes of rare woods and softened by the muskiness of the musk.
Other floral chords feature delicate orange blossoms with whitish jasmine flowers, captured in magical harmony with gourmet vanilla, whose seductive sweetness carries up to a powder-loving embrace.
In the final parade, we delve into the velvety softness of the glamorous honey ambergris, spreading its tones into the musky warp musk, and again enter the vanilla pods, ending this richly folded scent.

Customer Reviews (2)
Ornament pour Femme - Perfect perfume in a beautiful box, I fell in love at that moment. The fragrance itself is perfection itself, sweet, but not cheap, on the contrary, a sweet, warm luxury .... I smell the pieces of coconut, chocolate, vanilla, all covered in powder. In the smell I literally bathe and feel like a woman. I discovered my heart business ... until I lost my new scent again ... (28/05/2018 - Katka S.)

AFNAN ORNAMENT POUR FEMME - the first trial of the sample brought mixed feelings and a decision not to have this fragrance. But it broke under my skin, whether it was the smell of an intoxicating magnolia, or perhaps an amazing blend of juicy fruit with musk and woods ... the second rehearsal wasn't long in coming, and the result was an extension of the pencil book with this interesting and unusual scent. Stamina has amazing and wonderful development, when the final stage is the most beautiful ever. (2/13/2018 - Lenka S.)

Have you tried one of our perfumes?
Let us know
how you like it!
Notify me when available?
You might also like