Afnan Musk Abiyad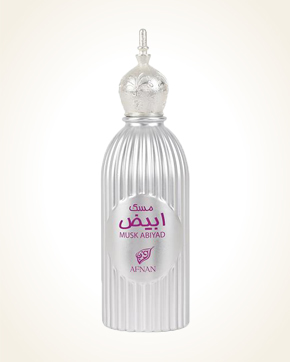 Afnan Musk Abiyad
Eau de Parfum 100 ml
In Stock
Eau de Parfum Sample 1 ml
In Stock
Description
As the name suggests, it is a beautiful, snow-white musk fragrance, which is prepared for you in a new bottle of 100 ml.
Musk shows us its beauty in softly fresh tones, complemented by rose chords that seem to cool the scent. Charming expansions with pleasantly laid tones of sandalwood and white oud oil, which elevates the whole composition into an incredibly beautiful and very long-lasting scent.
Musk Abiyad will tie you up and embrace the velvety sensual tenderness, which is pleasantly laid on men in the perfume water version.

Customer Reviews (1)
Hello, I write with the passage of time, because I did not dare to describe the perfume when I read how some customers know how to deal with words. I have Afnan Musk Abiyad both oil and perfume water. It is a beautiful floral musk scent. Hold me good and feel it on things for a long time. It's the smell of purity, sensuality and it has in me what makes you use it every day ,, I'm looking forward to it because I've seen another perfume and I can't wait to stock it so I can have it at home. So many nice fans of beautiful scents. (May 18, 2022 - Iveta P.)

Have you tried one of our perfumes?
Let us know
how you like it!
You might also like