Abdul Samad Al Qurashi Strawberry Musk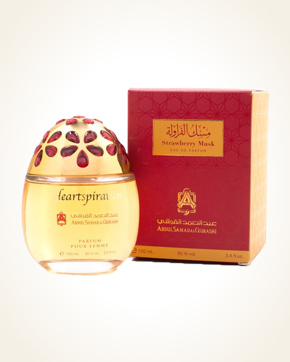 Abdul Samad Al Qurashi Strawberry Musk
Eau de Parfum 100 ml
Out Of Stock
Eau de Parfum Sample 1 ml
In Stock
Notify me when available?
Description
The seductive, opulent fragrances and tastes, the largest and most ripe strawberries they can be, await the first fragrance of this gorgeous, gourmet perfume.
The gourmet concert continues into a lazy, sweetly salted caramel with a handful of nuts.
Another fruit serenade comes, which is dominated by cherries and raspberries combining their chords into the musky notes of musk, which is in a unique composition with creamy smooth and passionately sensual vanilla.

Customer Reviews (3)
STRAWBERRY MUSK, sweet, strawberry intoxication, yum, simply an edible smell, lifts the mood, absolutely great smell on a gloomy day, caramel, opulent smell, absolutely full of strawberries and sweets, excellent smell. (19.01.2023 - Kateřina M.)

Hello to Anabis, it won't let me send you a few impressions of the last shipment. With almost the whole box (10 pcs) of Saat Safa I took 4 samples. Qurashi's Strawberry Musk was one of them because I was wondering how it smelled because strawberries are my favorite fruit. Qurashi's perfume is a genuine strawberry gourmet - when the first strawberries appear or ripen, and we can't wait to turn red. Strawberries that immediately scent the space, whether in a basket or mashed with a little liquid whipped cream. The smell still attracts me, it is simple, very sweet like strawberry nectar with honey, not strawberries with sugar, with vanilla sugar, like strawberry pie, freshly squeezed strawberries in a shaver, when we want to make them juice or jam or cream. I don't need to eat or drink anymore, I'm totally saturated to the rupture of strawberries. (10/11/2019 - Sylva F.)

Abdul Samad Al Qurashi Strawberry Musk - so it is again juicy beauty ... fruity musk splendor, I smell about half an hour to the forearm and I can not get enough ...... I run out of words to describe..how I am from your scents paf ...... .. and when I sum it up, I thought that I would find one of my top fragrances ... but it just can't ... You are all a surprise and I suddenly do not know what smell sooner .... my first favorite Al Rehab Tooty Musk, at that time I did not understand how there could be something so beautiful .... and then another bomb Afnan Musk Abiyad ... Soft ... etc etc. I'm really too glad that I hit you at that time with my browsing on the net ... Your smell just enhances me ... it invigorates my mind and body ... it makes me happy for my soul and better mood .... and for that Great Thanks Mrs. Lenko and the whole Anabis .... Have a nice day :-) Yours sincerely (12/02/2019 - Romana V.)

Have you tried one of our perfumes?
Let us know
how you like it!
Notify me when available?
You might also like