Abdul Samad Al Qurashi Night Intense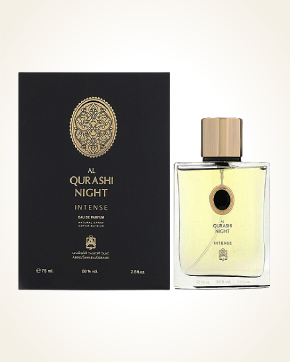 Abdul Samad Al Qurashi Night Intense
Eau de Parfum 75 ml
Out Of Stock
Eau de Parfum Sample 1 ml
In Stock
Notify me when available?
Description
Night Intense is like a mysterious evening when the scent of night flowers transforms into a magical essence that surrounds you with its warm tenderness and at the same time the cool beauty of closing flowers. Immerse yourself in this luxurious fragrance and discover its mysterious, seductive and uniquely fragrant line that awaits your discovery.
The first aromatic chord radiates through a flower garden, in which different flowers, grasses and rare woods are mixed in the background. Velvet-draped, regal roses exude a mysterious and majestic allure, while woody notes add a soft smoothness to the scent.
Mysterious, mystical, oud essential oil engulfs you in its intoxicating charm, its power is tamely tender and bound in the cool beauty of white-flowering lilies, which seduces with its purity and innocence, while the musky elegance hidden behind the veil of mystery in the finish, leaves the fragrance vibrant and passionately untamed.

Notify me when available?
You might also like