Abdul Samad Al Qurashi Makan Blend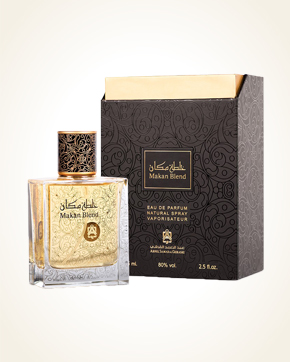 Abdul Samad Al Qurashi Makan Blend
Eau de Parfum 75 ml
In Stock
Eau de Parfum Sample 1 ml
In Stock
Description
Makkah Blend's dreamy intoxicating perfume in Eau de Parfum is a passion of woody floral silk, a passion of unbridled gourmet echoes, and a passion of sensuality.
The fragrance begins with a hint of slightly green grass chords, to which purple lavender flowers are added, accompanied by citrus seduction of bergamot.
The gourmet composition is opened by a distinctive aroma of coffee, into which dense drops of sweetly bitter caramel are immersed, which elevates the perception of the aroma to the directly unearthly heights of fragrant arrangements.
Delicious vanilla balancing in tones of sensuality with a fluffy musk, changing its footprint to dryness by adding luxury oud oil from India, shows the transformations of these ingredients. Oud is a great addition to enrich the overall tone, a unique, hypnotic perfume refinement that lends perfume to its wearers for very long hours.

Customer Reviews (1)
Hello girls to Anabis :-) Thank you for the wonderful products you offer and that will please everyone like me. I am still subject to more and more wonderful scents, even though I remember them no longer. Thanks so much and so much. "Abdul" I have more species and are getting more beautiful - Makkah Blend EdP. Thanks and have a nice day. :-) (18/10/2018 - Gita P.) PS - thanks for gifts and choco.

Have you tried one of our perfumes?
Let us know
how you like it!
You might also like