Abdul Samad Al Qurashi Grape Musk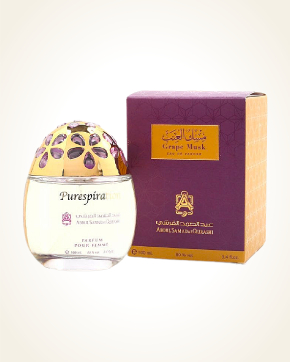 Abdul Samad Al Qurashi Grape Musk
Eau de Parfum 100 ml
In Stock
Eau de Parfum Sample 1 ml
In Stock
Description
The fragrant line of exclusive Inspiration perfumes is created by the hands of the most experienced perfume masters Abdul Samad Al Qurashi and reveals another of his treasures - Grape Musk.
Temptingly refreshing, shimmeringly sparkling, and gourmetly sensual - this is the aroma of grape wine, blending into the creamy peaches of peach melange and tenderly subtle nuances of fresh juiciness, crispy ripe, green pears.
The delicious fruit blends lightly with a delicate echo of flower chords, into the captivating seduction of which the honey velvet chord of a sovereign amber will be heard.
The veil of powderyness appears in the final parade of musk shades, showing graceful elegance and sensual heat.

You might also like