Abdul Samad Al Qurashi Blue Kannam Vanilla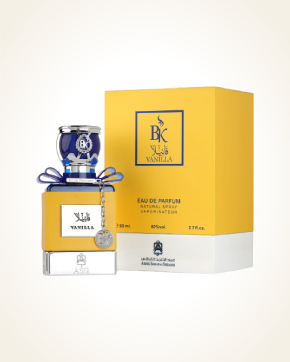 Abdul Samad Al Qurashi Blue Kannam Vanilla
Eau de Parfum 100 ml
Out Of Stock
Eau de Parfum Sample 1 ml
In Stock
Notify me when available?
Description
The unique collection of Blue Kannam fragrances features a yellowish bottle, decorated with leather and a pendant - Vanilla perfume, and as its name suggests, the main ingredient is gourmet vanilla.
The luxurious fragrant composition is opened by obscure tones of saffron with several notes hidden in the skin, in which a freshly cooling cumin with a very pleasant, sweet scent of geraniums, which in their hidden way smells of roses, is immersed.
Gourmet chords of vanilla are already dissolving into the perfume, but for the time being they will be covered by spicy sage with powdered cocoa styrax, which will lift the vanilla to the heights.
Only now will the whipped foam of indulgent vanilla appear, combining its secrets and nooks with the warmth of animal skin, which is adorned with orientally inviting cardamom.
Herbaceous earthy patchouli, in an interesting combination with bitter labdan and dry vanilla bean, suggests an irritating sway into the depths of the seductiveness of the perfume, into which the velvety softness of the Sovereign Amber is fully recognizable.
The final parade is again presented by a gently sensual, sweet-filled vanilla, this time with a few touches of softly winding woody plants dominated by cedar.

Customer Reviews (1)
If vanilla can be sublime and spicy at the same time, then this is it. Sacred resins and cedar wood take care of the grandeur, while saffron, cardamom and nutmeg bring spiciness. The composition fits on freshly tanned leather and there is a giant flowerpot with geraniums nearby. The fact that many scents are different on the skin and different on the clothes is nothing new, but I am surprised at how much the difference is obvious. On my skin, Blue Kannam Vanilla spreads into a smooth vanilla with incense, rose and amber; after cumin, sage or patchouli or breath. He then behaves like a cross between Syed Juaid Alam Abeeq and Kalematu from Arabian Oud, who caught a light honey-fruity touch somewhere halfway. The "vanilla with incense" variant is serious and soothing. The "spicy vanilla" variant is again playful and sexy. So, where to with her? On the skin or on clothes? (09/12/2021 - Petra P.)

Have you tried one of our perfumes?
Let us know
how you like it!
Notify me when available?
You might also like