Abdul Samad Al Qurashi Blue Kannam Aqua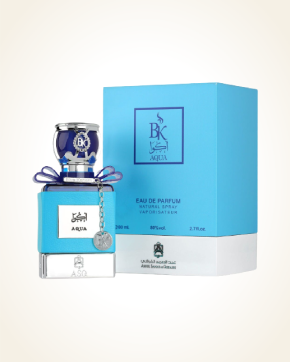 Abdul Samad Al Qurashi Blue Kannam Aqua
Eau de Parfum 100 ml
Out Of Stock
Eau de Parfum Sample 1 ml
In Stock
Notify me when available?
Description
The unique collection of Blue Kannam fragrances is a blue bottle, decorated with leather and a pendant - Aqua perfume, and as its name suggests, the main line will be a light and airy tone.
A fresh, almost cool aroma with the initial, Orient-pierced, spicy sweet cardamom, it brings together citrus, the main emphasis of which is a slightly bitter bergamot, which blends with it and highlights a very pleasant spicy bitter trail.
The soft woody scent of the expansive cedar enters the score together with the guaiac wood, with a hidden note of vanilla smoothness, but also showing a warm spicy line with a hint of pink pepper.
Another of the cooling ingredients is added - vetiver, offering aromatic greenery, which is mixed with the scent of roots, but also with a fleeting, smoky dry tone, into which the mystical scent of rare resins and a touch of fine balsamic oils dissolves.

Customer Reviews (1)
Blue perfumes and the word "Aqua" are usually avoided because they can be expected to have water or (worse) sea tones that do not do me good. But that would be a mistake. Blue Kannam Aqua does not resemble artificial sea freshness. Resins, woods, spices, citrus and flowers (but yes, they are also there, although not in any way distinct, let alone intoxicating) are mixed with feeling and wrapped in a light veil of musk and vanilla. When the scent spreads, it reminds me of a lighter version of Samghi by Asgharali. She will be pretty for a man (I see a tanned, relaxed guy in white bermuda shorts) and a woman (for example, in a light azure dress). It will be ideal for those who long for an "Arabic", but do not yet feel the typical heavier tones. (12/12/2021 - Petra P.)

Have you tried one of our perfumes?
Let us know
how you like it!
Notify me when available?
You might also like