Folak Zekriyat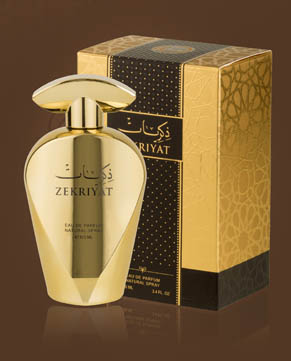 Folak Zekriyat
Eau de Parfum 100 ml
Out Of Stock
Eau de Parfum Sample 1 ml
Out Of Stock
Description
Warm gourmet vanilla combined with oriental spices is a deliciously sounding fragrance that will pervade you at the beginning.
Vanilla swings very pleasantly on the waves of spicy nutmeg, fresh-sounding pepper, cloves and cinnamon. There are a few echoes of citrus fruits, mainly sweet tangerines and juicy orange. The floral tones lightly glimmer roses with a delicious orange flower, which are accompanied by rare trees and in the end caress musk.
The perfume sounds gourmet with gentle powder tones that embrace you like a soft scarf or a feathery sweater.

Customer Reviews (4)
I would like to thank you, ladies and gentlemen, for being there to trade this product, for your excellent service, for your professionalism (I had the opportunity to meet rogue sellers) and for the gift you sent pleased me. Although I am a lover of Chanel, Dior fragrances, but after seeing your site I fell in love and chose according to the composition of eau de perfume - ZEKRIYAT. And hit it. I have been acquainted with the fragrance for several hours and I am excited about it. I am a loyal man, not only to my partner, my friends, but also to your fragrances from today. (5/15/2015 - Martina Č.)

Zekriyat, a beautiful, light veil of vanilla and musk framed with delicate spices and interwoven with shimmering threads of something peppery. Tonight, I veiled into this veil, and I look forward to welcoming him with a new day. I fell into the spell, although I had never been to vanilla. The smell's stamina is excellent and flacon is also worth it. Arab perfumes are simply something else, magical. Thank you (9.3.2015 - Marcela K.)

Zekriyat is a beautiful fragrance. I can't recognize the ingredients, the scent on my skin has broken down into a delicate vanilla with a powder of cinnamon. The musk is quite pronounced, but not in the cheap way it is in European fragrances. I'm blown away, enchanted, and hopelessly in love. I am afraid that after scenting (it is indeed a sense gratification) of all the formulas, it will be very difficult, perhaps even impossible, to decide for one. I have long been looking for a perfume that would "put me on my shoulder blades" and make me feel enchanted. Only now I'm on the right track. Thanks to you .... (February 25, 2015 - Lenka S.)

ZEKRIYAT - delicate vanilla, it is beautiful, at the beginning you can smell citrus with oriental spices, then peek out cinnamon, nutmeg and the finish is absolutely breathtaking, beautiful delicate, clean to powdered vanilla but again a beautiful fairy tale. Have a wonderful day full of sun rays (15.1.2015 - Veronika H.)

Have you tried one of our perfumes?
Let us know
how you like it!
You might also like