Khadlaj Lulu Al Khaleej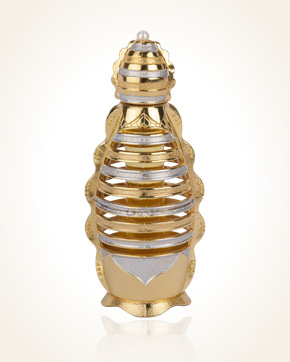 Khadlaj Lulu Al Khaleej
Concentrated Perfume Oil 18 ml
Out Of Stock
Concentrated Perfume Oil Sample 0.5 ml
Out Of Stock
Description
Sparkly juicy fruit along with vanilla and caramel invites you to a pleasant - tenderly oriental walk with a new scent from Khadlaj.
Fluffy vanilla combined with refreshing orange and tangerine juice shows a delightful trace of perfume to which wild strawberries with a creamy caress are added.
Caramel does not look bitter here, but only as a complement to a beautiful rose, sweet almonds and lightly added oud oil with its sweetish woody winding that will show its unmistakable, oriental scent.

Customer Reviews (5)
Today, after a long pause, I fell my morning perfume selection on Lulu, and I couldn't write it back and rejoice - perfume perfume, a jewel of gems. From perfume bottle to content. The wonderful fragrance of vanilla, fruit, almonds and honey, a little oudu to heal all the ingredients and aah .... I am in another, better world and the whole day is beautiful. And because, despite her sweetness, her husband also owns it, my knees are sagging when she puts it on me and I forbid him to wear it in the office :-D. My colleagues would still stick to it :-). How anyone could create such splendor. And Zainab, who landed on my shelf a few days ago and is in a way similar to the second treasure I can't get enough of. I've got dozens of perfumes from you, with samples around two hundred, so I can compare, but with a few other shoes these are the most delusive to me. I recommend!! (04/04/2018 - Iveta W.)

Lulu Al Khaleej - last year I got you from the package to try out the formulas, but it was definitely overwhelmed by Mahasin from Naseem (which, I hope, will appear in your offer again, I have less than half the contents of the bottle and it bothers me ... A few days ago I scolded the Lulu formula again and wonder, he enchanted me. And then I had a little experiment. I am quite annoyed by the strong smell of citrus, so I decided to even more annoy her with Vanilla musk and ... wow, that is your beauty, pleasure ... Those little bottles with a ball are all surprises. After washing, they will do another service. I carry them everywhere and I would prefer to bathe in their content. (1/26/2016 - Lenka S.)

Lulu Al Khaleej - the combination of vanilla and caramel sweetness, the flavor of almonds underlined by the aroma of citrus, but gently, not too strongly, vanilla suppresses the citrus and thus makes the whole perfume more pleasant. In the background you can feel oud with roasted bitter almonds - just a little bit, I do not like bitterness, but here it is nice, it makes Lulu an interesting competitor of similar perfumes Naseem Lamsy and Musk Al Ahlam, Naseem is more with a touch of citrus and Musk Al Ahlam back into the sweetness of honey. Lulu Al Khaleej smell reminds me of quality almond liqueur, only without strong smell of alcohol :-), just pet. In conjunction with Amaal and its strong citrus scent, the freshly grated lemon peel will amaze you. I have to try another mix with similar perfumes :-) (2.3.2015 - Iveta W.)

Lulu is a refreshing cup full of laskomin served in a hollowed orange. The first notes are marked by a sweet bitter bark, to which is added a rich rose decorating an orange bowl. When we enjoy enough non-traditional serving, we open the half that served as a lid and start exploring the wonderfully fragrant content. Instead of whipped cream, vanilla mousse is topped with sweet citrus juice, covered with forest strawberries in a velvet bathrobe and dense caramel at the bottom. As a cherry on the cake is added lightly hand oud, which underlines the whole composition with a pleasant wooden footprint. Recommendations for consumption - not to hurry, to savor every bite honestly (3.12.2014 - Andrea Ž.)

Lulu Al Khaleej cpo is very readable, the ingredients can be well identified. It is a scent of cheerful and playful, carefree, opening tones of fresh citrus, including bitter grapefruit, and sweet tangerines. There is a noticeable buttery-colored background, a line that goes hand in hand with changing ingredients, but does not change itself. The space is scented with unlit flowers buds, which form a kind of transition from playfulness to seriousness. (03/07/2014 - Simona J.)

Have you tried one of our perfumes?
Let us know
how you like it!
You might also like