Anabis Sidika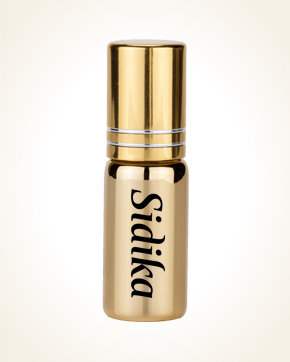 Anabis Sidika
Concentrated Perfume Oil 5 ml
Out Of Stock
Concentrated Perfume Oil Sample 0.5 ml
In Stock
Description
Sidika delivers a fragrant intoxication of white flowers, soap tones and echo chords.
It is a breathtaking combination of jasmine, royal lilies and a cream bath in ylang - ylang. This fragrance blend is both mysteriously irritating and highly addictive, also with the help of a few irritatingly bitter neroli notes.
The elegance and magic of the aldehyde combination, along with the fragility of white roses, is a symbol of charming seduction, which is compounded by an earthy soap patchouli, a dry-sounding vetiver and the addition of dusty vanilla.
There are a few echoes of fuming trees and a smoky trail that depicts a special depth.
The fragrance is in extract perfume, which guarantees an infinitely long duration and also a very strong and intense fragrance.

Customer Reviews (6)
Sidika is just fantastic ... beautifully balanced, smooth, elegant ... I am a classic lover, so for me this perfume is a gem. (06/02/2019 - Petra P.)

For me, Anabis Sidika is the scent of true luxury. Initially, the smell is pretty striking but after a while, beautifully polished and I feel really special. It may sound crazy, but I tried at home in comfortable clothes and after scenting I had to put on my blouse because the shirt suddenly looked terribly tasteless. For me it's a really nice smell. (5/17/2018 - Zina K.)

Hello dear, fragrant kingdom, let me thank you for processing my order, which you managed again at lightning speed. Sidika's new oil perfume is a real treasure. The aroma is wonderful and clear, especially long-lasting. I chose it according to the responses of other customers and thanks to them for true and concise reviews. Surely you are starting the Christmas carousel, so I wish you freshness and strength and joy of the joy you are doing to others. THANK YOU. With thanks (3.11.2017 - Alena V.)

and Sidika? - as Katka and Kateřina write unique, as well as in the position of chypre, what gets me, and in the further development of soapiness, it is a dense extract that lasts for two days and always goes with you. The last phase, after about an hour, appears luxury soap, which lasts and lasts. I would divide the comparison with Chanel 5 at the beginning, when they are similar, then go in a different direction, Chanel still gets a little sweet, Sidika is like "dry to dust" and more soap. Thank you for the wonderful perfumes you are bringing and for the super approach to our customers and thank you for the gifts you will never forget to pack - a beautiful weekend (27.10.2017 - Dana S.)

Sidika: Aldehydes from the Old Times Another fragrance that seems to remember the silent film era is called Sidika, which is meant to be "true." In addition to the aldehydes mentioned in the title, other carrier tones are green musk and a branch with a subtle adornment of jasmine, ylang-ylang and orange flowers. Sidika reminds me of two of my perfume favorites, Baghari by Robert Piguet, and at some stage Narcisses Noir by Caron, due to the refined bitterness of daffodils. (24.5.2017 - Katka - Breakfast in Perfumery)

Good evening, Mrs. Lenko. Thank you for your quick order. I'm excited - Sidika, ou jéé, I found a great news for Maraam that you haven't had in a long time. Again cool trace of elegance "ala Chanel 5" and stamina ... well I do not know how to write it right, but the scent literally "encapsulated" after just one day of smelling in everything, I have it in my hair, is in a scarf, dressing room smells my coat ... great! I love soap with jasmine and roses, so the choice was clear, it is timeless, it is its own and it wakes up one question after another - what does it smell so beautiful ...? Sidik of Anabis! Have a nice weekend and I am respectful (3.2.2017 - Kateřina Š.)

Have you tried one of our perfumes?
Let us know
how you like it!
You might also like