Khadlaj Sabaa Wardat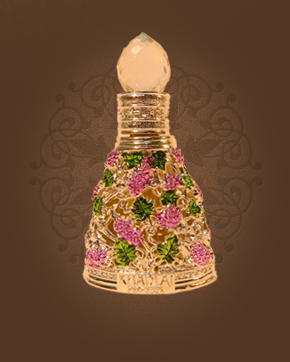 Khadlaj Sabaa Wardat
Concentrated Perfume Oil 12 ml
Out Of Stock
Concentrated Perfume Oil Sample 0.5 ml
Out Of Stock
Description
The fresh fruity aroma offers juicy strawberries and grape right at the start. The fruit is refined with vanilla and acquires a sweetish trace. Magnolias with a hint of coconut and white chocolate will be presented here.
In the end you will see rose flowers and flickering white jasmine. All this fruity lure is topped by the scent of mandarins

Customer Reviews (5)
The second bottle of the package is Sabaa Wardat. Similar and yet different. I loved her from the first sniff. The smell of summer and vineyards. If from now on Kasarat is the smell of Bohemian Paradise, Sabaa Wardat is my beloved Pálava. It is my second bottle and certainly not the last, you must not stop importing this fragrance, I can not imagine that it would not accompany me by summer. And thank you for the dates, Mrs. Lenko, they were delicious. Have a nice day. (Feb 19, 2016 - Lucie K.)

Good evening, Sabaa Wardat, so I had to buy it again, the juicy strawberries and grapes + other ingredients mixed in it must not be missing in my collection. Thank you very much. (Sep 23, 2015 - Miloslava P.)

Hello, I received some perfumes yesterday that I could only dream of. But the dream became a reality and I found myself in the realm of fairy tales. I bought SABAA WARDAT and FAKHR AL JAMAAL, it is something magical, beautiful, magic simply luxury over luxury. I sat down and just enjoyed the breath-smelling scent and, as far as the flasks were concerned, a masterpiece I couldn't take my eyes off. Your perfumes already have a place where no European can. I want to thank you for your professional help in choosing. I can not wait for more purchases. Have a nice and fragrant day. (April 15, 2015 - Miloslava P.)

Sabaa Warda (Khadlaj) cpo reminds me of a sparkling and sweet fruit crush, initially iced like frozen strawberries, and in a short time it connects with sweet vanilla and fresh tangerines, and I perceive a slight oud trace that makes it undoubtedly an oriental aroma. The oil is silky, velvety and creates a beautiful and intimate cloud. (02/03/2014 - Simona J.)

Wild strawberries and beautiful sweet woods with musk ... (18.7.2013 - Renée H.)

Have you tried one of our perfumes?
Let us know
how you like it!
You might also like