Rasasi Mushreqah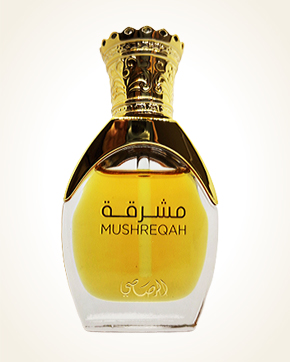 Rasasi Mushreqah
Concentrated Perfume Oil 15 ml
In Stock
Concentrated Perfume Oil Sample 0.5 ml
In Stock
Description
Oriental dreaming begins with a slightly bitter trace of citrus bergamot, in a fragrant harmony with white-blooming jasmine, to which its spreading crowns bend softly smoothed cedar.
In a spicy aria, tones of basil leaves, dusted with intensely aromatic, resin-sweet cardamom, in a delicately intertwined serenade with gourmet whipped vanilla mousse.
A light gust of freshness is projected into a fluffy and tender tenderness that reflects its chords showing milky smoothness, sandalwood. In the final performance, the velvety ambergris will sound the sensual score.

Customer Reviews (1)
I'm a vanilla lover, but after the first scent of this fragrance I wanted to utter the legendary sentence of the film Hujer: "I had something to do with it, too!" When I dug out of it, I was able to perceive other tones that left the vanilla within reasonable limits: slightly spicy basil and warm cardamom, jasmine, creamy ylang-ylang, ambergris and wood. And although it is not included in the composition, my nose also reported caramel. To sum up, Mushreqah is a pleasantly sweet gourmet that probably sounds best in colder weather. (12/20/2019 - Petra P.)

Have you tried one of our perfumes?
Let us know
how you like it!
You might also like