Al Alwani Raheeq Al Ayoon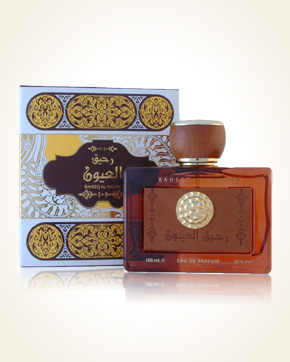 Al Alwani Raheeq Al Ayoon
Eau de Parfum 100 ml
Out Of Stock
Eau de Parfum Sample 1 ml
Out Of Stock
Description
Tenderly warm footprint, beginning with sandalwood and cedar wood, which gradually merges with floral tones.
A narcotic lily with a seductive rose, gentle lilac flowers and sweet mimosa entering the gourmet vanilla, where, together with raspberry and cherry, they create a gourmet key of perfume that leads us to very pleasantly seductive chords.
On the waves of delicate sweetness, we continue with a soft hint of honeycombs, which will make a special touch of oud oil with a woody mysterious echo. In the end sweet citrus and patchouli appear.

Customer Reviews (1)
Hello Mrs. Lenko and Mrs. Jano ... I have to thank for selling out Rasha Hanaan perfume because I discovered Raheeq Al Ayoon. I do not understand how it was possible that I did not discover this wonderful smell before, perhaps because of its inconspicuous flacon :). Yesterday I picked up a pattern and for two days and night I smell at my wrist, the smell is incredibly intoxicating, very elegant, I feel more flowers on me, oud only subtly and the finish is powdered. It has an incredible stamina, after 6 hours on the wrist and then in the evening showers feel it the next day. I have to buy the whole flacon immediately. Thank you very much for the many beautiful scents I could discover thanks to Anabis. (8/23/2016 - Mirka P.)

Have you tried one of our perfumes?
Let us know
how you like it!
You might also like