Khadlaj Maraam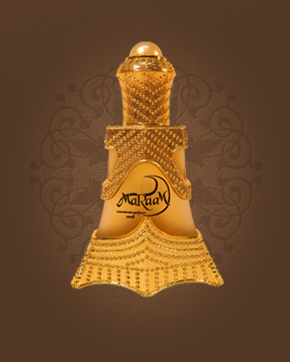 Khadlaj Maraam
Concentrated Perfume Oil 25 ml
Out Of Stock
Concentrated Perfume Oil Sample 0.5 ml
Out Of Stock
Description
The first few drops of scented lure open their perfume arms with an elegant key in a floral flood with a gentle part of the chypre tuning.
Step on the path of seduction with bitter tones of orange blossoms, which together with patchouli allow jasmine to bind you with its lightly smelled aroma.
Beautiful wave of individual essential oils is impressive with the help of a bergamot and smoothed styrax vetiver. It is quite magical how ylang-ylang works with roses and oak moss. The fragrance is mysterious and powerful, showing a very strange conjure intense oriental perfume.

Customer Reviews (6)
Maraam - the Arabian Chanel, begins with No.5 and ends with No.19 - but is not so cold Chanel, but with an Arabic dot. (August 11, 2014 - Marta K.)

Maraam brings the charm of old times, the refinement of elegant ladies in expensive tasteful costumes with goat gloves and chic hats, with a long string of pearls as a symbol of femininity wrapped around a graceful neck, spreading a disturbingly beautiful cloud of unobtrusive chypre fragrance. From the earthy green soap line, the scented orange and jasmine flowers, slowly covered with light, fresh bergamot, slowly slip into the velvety moss pillow of vetiver and ylang, covered with sweet powder. Deep, intense touch of luxury Arab with French charm will stay in mind for a long time (26.1.2014 - Andrea Ž.)

Maraam, a fairly new treasure in the collection, is what I prefer the scent. Sweeter, rich, floral fruity with smoky tones. As a result, Chanel reminds me. 5 in concentration pure perfume, but Maraam is much more distinct, velvety smoother and wonderfully holds. (5/15/2013 - Simona J.)

Gold flacon with a large smooth pearl hides honey-golden liquid ... a wonderful elegant scent, a light chypre ... Luxury creamy soap with narcotic orange-smelling flowers and delicate powder jasmine, with a little moss vetiver ... can not sleep, can calm and induce restlessness ... is as feminine as a pearl necklace on a heat-radiating soft neck ... (21/12/2012 - Renée H.)

Maraam is enchanting for its depth, noticeable in its early tones. A light, spicy bitterness which, as a pleasant, subtle trace, accompanies the entire aroma composition hand in hand with full roundness of ylang ylang. Mr. Ylang, oh yes, here so attractive with his dignity! Strong, intoxicating, buttery soft ... he has all the layers of Maraam as an experienced choirmaster. And jasmine! ... psst, pianissimo ... echoes in quiet keys, almost imperceptible. In this fragrance, there is also a branching, which underlines the whole composition as persistently as ylang, and makes Maraam a little "unconventional". It brings her closer to the timeless creations of European Cyprus. Elegance par excellence! (09/10/2012 - Dalia)

MARAAM - As in the cool blue of opal, as in the still depth of eternity, you're lost in it ... you're no longer your master. "Where am I and where is the time?" You ask ?! Are you a fool, are you a victim? Time? ... is no longer given to you. You are lost in your own pain, which you call love for them ... the bluish depths. Your Maraam ... (9/10/2012 - Dalia)

Have you tried one of our perfumes?
Let us know
how you like it!
You might also like