Khalis Qatar Al Nada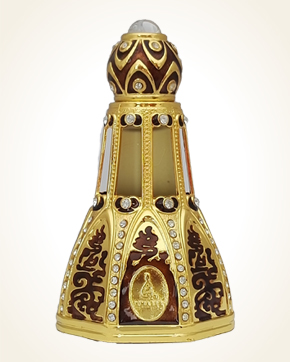 Khalis Qatar Al Nada
Concentrated Perfume Oil 20 ml
Out Of Stock
Concentrated Perfume Oil 0.5 ml Sample
Out Of Stock
Description
The fragrance, pervaded by the mystery and mystery of the bewitching oud oil, in harmony with the majestic rose and spice, is a scented treasure hidden in a gold-shimmering flacon illustrating an Oriental palace.
Let yourself be bound by an unmistakable fragrance, a mystic-pervaded oud that is delightfully warm and even earthy. Enter the gardens of the brilliant sunshine, with the aroma of royal roses and the juicy echo of citrus fruits dominated by sweet mandarins and oranges.
A great addition comes from a nearby marketplace full of strange tones of spices, especially cinnamon, warm vanilla, oriental saffron and cardamom will also show up.
The gourmet line shows a candied orange peel dipped in dark chocolate, to which the woody oud is again attached.

Customer Reviews (1)
Khalis Qatar Al Nada - the scent is not nearly as pronounced as I expected. She is beautiful, full and pleases both women and men. I feel the most intense smell of cardamom, rose, dry vanilla and cinnamon. Oud is gentle here and adds a scent of depth, candied oranges dipped in dark chocolate, a sweetness and saffron spruce that only he can conjure up. Oud scents have always attracted me. At the very beginning, I couldn't appreciate them, and when I had decided for one, I was afraid of the reactions of the surroundings. Qatar Al Nada is a perfume that I would not be afraid to use at that time. Oud is so gently and sensitively incorporated that it does not stand out, just underlines the perfume charm. (3/8/2018 - Lenka S.)

Have you tried one of our perfumes?
Let us know
how you like it!
You might also like