Royal Diwan Bin Thani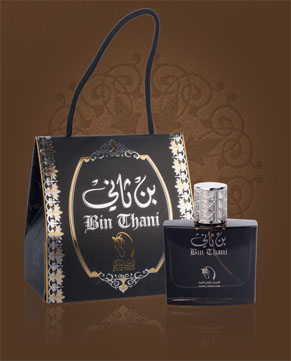 Royal Diwan Bin Thani
Eau de Parfum 50 ml
Out Of Stock
Eau de Parfum Sample 1 ml
Out Of Stock
Description
Accept the temptingly sinful invitation to the heady oriental perfume, full of precious woody tones, variety of flowers, and the uniqueness of oud oil of the highest quality.
Fragrant grandeur is brought to you at the beginning by soft ambergris with the contribution of woody earthy scent of patchouli. Their combination with the very intense tones of oud oil, which comes with a big bang, creates an unmistakable scent of oriental perfume.
The sharpness is gradually smoothed and gives off the warmth of rare trees. Mysterious echoes reveal sweet grass and balsamic tones, complemented by a smoky dry aroma of vetiver. The sweetness, together with the warm wool, comes with tonka and a dry vanilla pod lying on the full smell of blooming roses. Gourmet composition is represented by an orange flower drowned in honey and sprinkled with dark chocolate.
Let yourself be amazed by the bitterly sweet perfume with amazing stamina. It will give women a captivating seductive seduction and men will be accompanied by the intoxicating uniqueness of the luxury perfume composition.

Customer Reviews (2)
Bin Thani edp is certainly not as dark as Royal Oud cpo, but the beginning is similar in spirit. Oud essential oil is coarse, beautifully combed and bristly, it does not offer direct smoothness, but, on the contrary, commotion and agitation. The resin calms down quite quickly and dry wood with a herb-like accent is dominant. Herbs and needles, however, are dried on a sharp sling and then stored in an old wooden chest. Bin Thani lacks any trace of freshness. Animal ambergris without traditional sweetness completes the concept to the perfection of bitter-dry resinous ooudovka. (Jul 8 - Simona J.)

Bin Thani - the beginning is oud a la old wooden almara, lasts long enough… then it slowly fades, powdery, a lot of woody tones and I have a trace of dry violets there. A lot of interesting Arab rock, but the beginning… (May 1, 2014 - Renée H.)

Have you tried one of our perfumes?
Let us know
how you like it!
You might also like