Khalis Aziz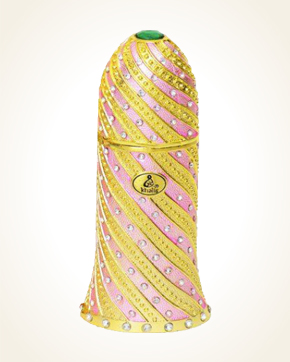 Khalis Aziz
Concentrated Perfume Oil 18 ml
Out Of Stock
Concentrated Perfume Oil Sample 0.5 ml
Out Of Stock
Description
The fragrant grandeur of flowers with vanilla wood wool is hidden in a pink-gold bottle from Khalis.
The hypnotic onset of narcotic magnolia in conjunction with the cool yet tenderly lily of the valley shows us another beautifully composed floral composition.
Chords of roses are added along with jasmine, which are based on rare woods and sweet playfulness of vanilla tones. The gentleness of the velvety ambergris is only indicated here to give room for the subtle nuances of the fresh pear, which is shrouded in the captivating lotus flower. In conjunction with lightly added orange flowers and sensual musk, a very intoxicating fragrance with elegant refinement arises.

Customer Reviews (6)
So I'll tell you something. I'm in trouble. And literally. Why are you doing this to me? I fell in love with the smell of Aziz and you don't have it !!! How tooo? I just tried one of the many formulas sent. But Aziz ... it will probably be love, not all my life. Well, I'll wait till you have it again. (9/19/2018 - Lenka K.)

This is such a beautiful and unusual fragrance that I had to order one more bottle for the stock. The intensity and endurance of the perfume is incredible. I perceive the delicate fragrance of lilies of the valley a lot, I am no longer able to identify it, the fragrance is so incredibly intoxicating, whenever I feel that the nicest fragrance I have found, comes a new fragrance randomly selected according to reviews and flask. that abounds in this fragrant store and I am lost because I know that every scent is a small miracle. The fragrances purchased here are so seductive, delicious, and one just closes his eyes and enjoys a luxurious sense of uniqueness that I have never experienced with European fragrances, so I pushed my earlier fragrances like Dior, Chanel, Thierry Mugler off the shelf and replaced them with these Arabic miracles, which in addition to the delightful fragrance also boasts of perfume flasks. To start the morning by unscrewing a bottle of glass and natiram lightly smell the neck and wrist with this glass rod, so this is my daily ritual, it is simply a joy, so everyday is so special, the fragrance acts like aromatherapy. Anabis store, and I look forward to another package with Aziz and more and more beauties to enrich my collection. Have a nice day 3.4 (3/3/2018 - Helena K.)

Khalis Aziz-bombaaa ... :) I feel pears, lotus flower, vanilla, yummy ... it is a delightful smell ... :) thank you also for the presents, soap beautifully beautiful ... I have nothing to add ... ! maybe just that I wish you a nice evening ... (8.2.2016 - Jana C.)

Aziz. But what do we have here? One, second, third ... forest nymphs dance in fine, transparent pieces of cloth, bare, long hair irradiates the setting sun, tiny freckles beautify their tender faces ... Who wouldn't fall in love? (Sep 17, 2015 - Stana L.)

Aziz is such a very nice sensation. With the first scent, a thought flowed through her mind like a comet in the dark sky: hmm a pretty flower, so that after a while there would be a supernova explosion carrying enlightenment that Aziz was brilliantly outfitted Luzane. And as Mrs. Lenka states that who likes Azis, she might like Luzane or Nawaem, I see it more the other way, who likes these two wonderful oils, will certainly be excited from Aziz. It is a mix of both, although according to the composition closer to Nawaem, Luzane is still closer. From Nawaem, Aziz chose a beautifully juicy pear on a lotus flower and jasmine, and Luzane's arms of lilies of the valley. It develops on my skin from a sweetly fruit-flower introduction, through a lush flower line, in which a narcotic jasmine, tempered with vanilla, finally prevails between magnolia and lily of the valley. Beautiful, elegant, very feminine, soft velvety beauty in an adorable bottle. What more could you want… (14.10.2014 - Andrea Ž.))

I am fascinated by the scents are absolutely fabulous. Aziz - again bomb, breathtaking smell, from the beginning you can smell magnolia, smell changes beautifully smell jasmine, vanilla very gently to divine is added to the end and pear ... and flakonek is magnificent. (9/17/2014 - Veronika H.)

Have you tried one of our perfumes?
Let us know
how you like it!
You might also like