Surrati Ausaaf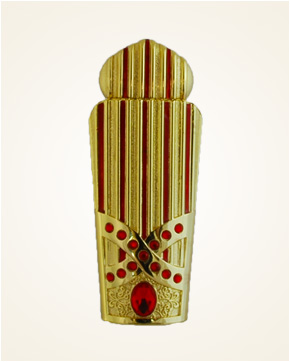 Surrati Ausaaf
Concentrated Perfume Oil 12 ml
Out Of Stock
Concentrated Perfume Oil Sample 0.5 ml
In Stock
Description
The golden bottle with red stones conceals a floral vanilla scent, with a subtle fruit echo.
The magnificent, sweetly unobtrusive scent of magnolia lines its wool together with peony. Your favor is tender juicy pear with gently served vanilla. The addition is complete with a spice of spices. The velvety tenderness of violet allows patchouli into its fragrant and seductive composition.
The fineness of perfume comes with musk, banana and sweet almond.

Customer Reviews (5)
Aussaf-so this is so beautiful that it can not even express.Je in this fragrance everything so intoxicating exactly as description.Já I would like to spill it all, I am the happy owner of this gem. I smell the whole bedroom. (9/20/17 - Zdena B.)

The type is very similar to La Vie est Belle, but ingredients such as cleaner, non-chemical and non-disturbing. The stamina is huge and it is a pleasure to take the flacon in your hands, turn the lid, pull out the stick and apply it to the pulse sites. It is not ... (1.1.2017 - Lenka Sv.)

Surrati-Ausaaf - smells wonderful ... :) soft, sweet, pear flows between fingers, oh, the sweetness in vanilla and almonds, stamina good ... :) thank you for the formulas ... :) Have a nice evening ( 8.11.2016 - Jana C.)

Surrati - Ausaaf - no wow !!! I do not need a pear, but in this perfume it is caramelized pear topped with vanilla cream and densely sprinkled with roasted almonds. As I gourmetly taste the served goodness, my olfactory cells are hit by the intoxicating scent of magnolia and freshly picked violets. Musk is just the icing on the "cake" - it underlines the seductive narcotics of perfume and softens the yummy sweetness. I should "marry" well :-D, or not to discover your site ... (20.7.2016 - Lenka S.)

Surrati - Ausaaf - another of wonderfully fragrant oils, I have a pattern and I wore almost all night :-) Beautiful delicate scent, flowers and fruit, I feel pineapple even though it is not included. I feel like I don't know what to do before, everything is such pleasure and beauty :-) (22.6.2016 - Lenka G.)

Have you tried one of our perfumes?
Let us know
how you like it!
You might also like